Transcend
Publication: 18th September 2012
Publisher: Compass Press
Pages: 200
Genre: Historical Romance
Age Appropriate: Young Adult
"so powerful, so deep, and dark. It took me on an amazing journey into places most people fear to go...leaving me breathless."
~Heather McCorkle, Author of To Ride A Puca
"This Phantom of the Opera-inspired tale is hauntingly dark and achingly beautiful. A story of love, loss and obsession set against the decadent backdrop of historic New York that sucked me in and wouldn't let go, from the first page until long after I'd finished. Ien still haunts my dreams..."
~ Michelle McLean, Author of Treasured Lies (Entangled, 2012)
All seventeen-year-old composer Ien Montgomery desires is an escape from his family's rigid expectations for his life; someone to inspire his music. When he meets a beautiful violin-prodigy, Kiera McDougal, his life music takes on new life. With her, he imagines a future outside of his parents' control. That is, until a horrible accident tears them apart.
Sent to die in a sanatorium, Ien's obsession for Kiera grows unbearable. Tortured by thoughts he can't escape and the truth of his monstrous disfigurement, he flees, desperate to exact revenge on the people that ruined his life – his parents. But, vengeance is empty. Betrayed by those closest to him, Ien discovers that the price for his happiness may be his sanity.
Set amidst the landscape of New York's Gilded Age, and inspired by Phantom of the Opera, TRANSCEND exposes the fine line between love and madness.
My Thoughts...
This book was absolutely amazing, I have long been a fan of the story of The Phantom Of The Opera, I saw the movie thirteen times at the cinema, so when I found out that this book was inspired by the story I hurriedly signed up for the blog tour, and boy I was not disappointed!
The twists and turns throughout this book had me sitting there at the end with my jaw dropped, I didn't expect the end and it was certainly a surprise.
Ien comes from a rich family, he's expected to take over the family business after the death of his older brother, he is in love with a girl Kiera whom her family especially his mother forbids him from seeing or marrying, but against his mother's wishes he proposes and she accepts, but on the walk home he is involved in a terrible accident which leaves most of his face, arms, legs and torso disfigured from burns.
Not expected to live he manages to hold on and the thought of Kiera keeps him going, after his parents fake his death he is sent away to die in a sanitarium, but he eventually escapes to take revenge on the people whom he blames for his accident and injuries and to find Kiera so that they can be together again.
But what happens if the one person he trusted to love him no matter, what is terrified by his appearance?
I highly recommend this book, the suspense in not knowing what will occur next and the journey to the shocking climax will have you on the edge of your seat.
I will definitely be keeping an eye out for whatever Christine Fonesca writes next.
I give this a huge 5/5.
Deleted Scene – Part #2
Yesterday you were introduced to a deleted scene in which Kiera tells of the horrible accident that deforms Ien.
You can read part 1 here.
Today, we continue the scene from Kiera's POV:
Chaos surround me. People dcrowding the burning building, shouting. Words, unintelligible and raw, swim around me. "…a boy…trapped...too late…" They bounce around in my mind before I can grasp their meaning. Everything slows and realization crests over me.
My pulse speeds.
The world spins.
A hand reaches out for me, but I back away. I follow the hand to an arm, a chest, a face.
James.
His normally tan pants are caked in ash and mud. His face is blackened with soot. Water fills his eyes and I know.
IknowIknowIknow.
The oxygen leaves my lungs. My heartbeat roars in my ears.
For a split second I think I'm dreaming, that everything around me, the chaos and the fire, the smell of burning flesh in the air, all of it is a lie.
But then I look at James and the truth present in his eyes.
I look over his shoulder to the flames still licking the walls of the building. I push past James, screaming.
Help me, I hear in the recesses of my thoughts.
I walk forward yelling, "Ien. I'm coming Ien."
Firm hands grab me. I scream and pull, unable to free myself. The heat of the flames teases my senses.
"Let me go," I snarl. "I have to find him. Ien!"
"It's too late," James whispers in my ears. "We're too late."
He pulls me backbackback and the dream, the nightmare, takes over again. Everything is happening too fast. Too slow. Nothing makes sense. All I know, all I can feel, is that my sole reason for existing is somehow gone. Impossibly gone.
My body shakes and the reality of my thoughts take hold. A scream forms deep inside my belly. My legs wobble and I scream, "Ien!"
Over and over the word repeats until my voice is raw. I choke and sputter, his name finally dying on my lips.
My legs wobble, my knees quiver and in a moment I am on the ground, my dress covered in soot and mud.
James holds on to me, softening my landing. But he can't soften the reality crashing around me. He can't bring back my Ien. He can't heal me
And maybe I don't want him to.
Tears stream freely down my face as I imagine a world without my Ien, my muse, my love.
About Christine...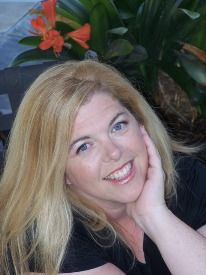 School psychologist by day, critically acclaimed YA and nonfiction author by night, Christine Fonseca believes that writing is a great way to explore humanity. Her many titles include TRANSCEND, DIES IRAE, LACRIMOSA, MEA CULPA, and in nonfiction: 101 SUCCESS SECRETS FOR GIFTED KIDS and EMOTIONAL INTENSITY IN GIFTED STUDENTS.
When she's not writing or spending time with her family, she can be sipping too many skinny vanilla lattes at her favorite coffee house or playing around on Facebook and Twitter. Catch her daily thoughts about writing and life on her blog.