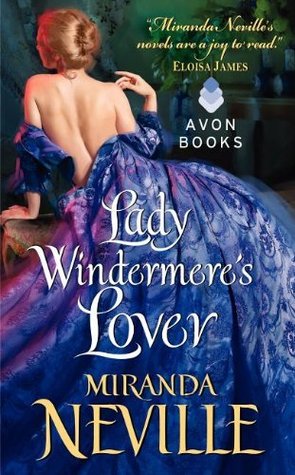 Lady Windermere's Lover
Publication: 24th June 2014
Publisher: Avon
Pages: 384
Genre: Historical Romance
Age Appropriate: Adult
Hell hath no fury . . .
Damian, Earl of Windermere, rues the day he drunkenly gambled away his family's estate and was forced into marriage to reclaim it. Now, after hiding out from his new bride for a year, Damian is finally called home, only to discover that his modest bride has become an alluring beauty—and rumor has it that she's taken a lover. Damian vows to keep his wife from straying again, but to do so he must seduce her—and protect his heart from falling for the wife he never knew he wanted.
Lady Cynthia never aspired to be the subject of scandal.
Lady Cynthia never aspired to be the subject of scandal. But with her husband off gallivanting across Persia, what was a lady to do? Flirting shamelessly with his former best friend seemed like the perfect revenge . . . except no matter how little Damian deserves her loyalty, Cynthia can't bring herself to be unfaithful. But now that the scoundrel has returned home, Cynthia isn't about to forgive his absence so easily—even if his presence stirs something in her she'd long thought dead and buried. He might win her heart . . . if he can earn her forgiveness!
My Thoughts.
Lady Windermere's Lover is the third book in The Wild Quartet series, historical romances that are based on four friends whom were all scoundrels in their younger years, who each find a woman that they can settle down with, with each book focusing on a different friend this time around we have Damien, Earl Of Windermere, returning from a year away to reunite with his wife Cynthia.
Having an arranged marriage wasn't in Damien's plans, but when he is bribed with marrying a stranger for the title of his late Mother's estate Beaulieu which he lost gambling ten years ago and which resulted in his being estranged from his friends he jumps at the chance, only spending two weeks with his new wife before up and leaving for his job, when he left Cynthia she was dowdy with no sense of style and not fluent in French in which he spoke to her for in the little time they spent together, believing that with she being married to a Foreign Officer as he, she should be expected to learn and learn fast.
So it comes as a bit of a shock when he arrives home and doesn't even recognise his own wife, believing that his wife has also been having an affair in his absence with their next door Julian, Duke Of Denford and Damien's former best-friend, he decides that she is his and she will no longer associate with Julian especially since his new task at work is to investigate some paintings that are believed to be in Julian's possession.
But it's not long before Damien realises what a mistake he made in not getting to know Cynthia when they first married, and he plans to rectify that if only they can get all their secrets out in the open and learn to trust each other, they may find that they are perfect for each other, and together they will only be stronger.
At first I really wasn't a fan of Damien's, it took me quite a while to warm up to him, but once I did I thoroughly enjoyed the romance between he and Cynthia, and I was so glad that they sorted themselves out.
This was the first book in the series that I've read, while I feel that maybe I perhaps missed out on some of the storyline from the first two books this still read really well as a standalone, I do plan on rectifyig that at some point and reading the series the whole way through, it was still a really enjoyable book that I read in one sitting, and I look forward to the others, this is historical romance done well.
I give this 4/5 stars.
I grew up in Wiltshire in southwest England. During my misspent youth I devoured the works of Georgette Heyer, Jean Plaidy and any other historical novels I could lay hands on. As a result I attended the University of Oxford to study history, ignoring all hints that economics might be a more practical subject. I spent several years writing catalogues of rare books and original letters and manuscripts for Sotheby's auction house in London and New York. Much of my time in this job was spent reading the personal correspondence of the famous. This confirmed my suspicion that the most interesting thing about history is people. I'm also a sucker for a happy ending: I howled in the back of geography class when I was supposed to be learning about German coalfields because I hated --HATED -- the end of Gone With The Wind. I still haven't forgiven Margaret Mitchell.
A few years ago I decided to write an historical romance. How hard could it be? Wrong. Several manuscripts under-the-bed (or deep in the hard drive) later, HarperCollins bought NEVER RESIST TEMPTATION, published in 2009 by Avon Books. Since then I've written the Burgundy Club and Wild Quartet series.
I now live in beautiful rural Vermont. I have a grown daughter and a large ginger cat. I am always happy to be distracted from gainful employment by cooking (3o minute recipes only), gardening (don't look at the weeds), cross-country skiiing, arguing about unimportant topics, and general procrastinating.