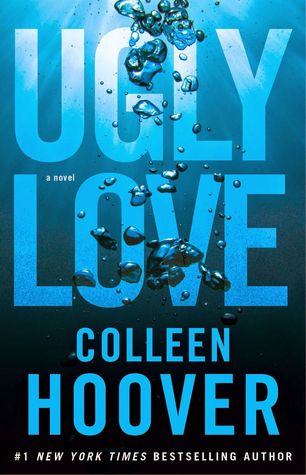 Ugly Love
Publication: 5th August 2014
Publisher: Atria Books
Pages: 336
Genre: Contemporary Romance
Age Appropriate: New Adult
#1
New York Times
bestselling author Colleen Hoover returns with a new heart-wrenching love story.
When Tate Collins meets airline pilot Miles Archer, she doesn't think it's love at first sight. They wouldn't even go so far as to consider themselves friends. The only thing Tate and Miles have in common is an undeniable mutual attraction. Once their desires are out in the open, they realize they have the perfect set-up. He doesn't want love, she doesn't have time for love, so that just leaves the sex. Their arrangement could be surprisingly seamless, as long as Tate can stick to the only two rules Miles has for her.
Never ask about the past.
Don't expect a future.
They think they can handle it, but realize almost immediately they can't handle it at all.
Hearts get infiltrated.
Promises get broken.
Rules get shattered.
Love gets ugly.
My Thoughts.
The feels...the feels... OMG the feels....
Reading this book felt like Colleen Hoover had torn my heart out and stomped all over it, I sort of had a niggling suspicion of what had happened to Miles six years ago but to read and confirm what I had thought was just devastating.
Colleen's books have a way of pulling at my heartstrings, Hopeless and Losing Hope were two books that did just that, I didn't think that she could do it again, boy was I wrong!
This story told in dual perspectives of Tate and Miles was so well done, we have our heroine Tate who has moved in with her older brother Corbin, the day she moves in she comes across a drunk and passed out guy sitting against her new apartment door, that's our first introduction to Miles, we do eventually find out what got him so drunk that day *sob* but I won't ruin it for anybody.
The attraction and chemistry is hot between these two, but six years ago something happened to Miles that changed his life forever and turned him into the man he is today, unwilling to love or to be close to anybody, which brings me to his perspective his are told from six years ago, and each chapter comes closer to explaining the terribly devastating incident that made him into the shell of the boy he used to be.
They both decide to be friends with benefits, without the friends part, just sex, Miles tells Tate not to ask about his past and too never expect any kind of future with him.
But against her better judgement Tate finds herself falling for Miles, but his rules are clear, and although in the back of her mind she may be hoping that Miles will change his mind and come to care for her too, she knows this won't last forever and she'll need to break things off before she falls too deep in love with him.
Colleen has a way of creating characters that end up being unforgettable, Miles is one of those characters, damaged and in so much pain that you can't help but empathise with him and hope that he can eventually accept the past and move on, be happy and to live again.
Obviously this is one book that I will be recommending to everybody, this is up there with my other favorite books of Colleen's Hopeless and Losing Hope, do you see the pattern, the books that I love most of hers are the one's that shatter me the most and leave me bawling like a baby
A fantastic book that I cannot praise enough.
I give this a huge 5/5 stars.
Colleen Hoover's love for writing began in 1985 when she was five years old. Her first story was titled "Mystery Bob" and was a huge hit with her mother, who was really good at faking interest.
Colleen continued to write short stories for friends and family until December of 2011, when she decided to write a long story she titled, "Slammed." She self-published SLAMMED to Amazon in January, 2012 and it hit the NYT's bestsellers list in May, 2012. She has since signed with Atria Books, a division of Simon & Schuster, and now has six NYT's bestsellers. Colleen prefers to be called a writer, as the term "author" still terrifies her and makes this feel like a job with expectations. She doesn't work well under pressure and hopes writing will always remain fun and exciting.
Colleen's newest novel, UGLY LOVE, releases August 5th, 2014. She is currently working on a new novel, CONFESS, which she is writing as fast as she can before she wakes up from this crazy dream.
You can follow Colleen on Instagram and Twitter @colleenhoover. You can also find her on her blog at www.colleenhoover.com where she holds a daily book-a-day giveaway, or on her very active Facebook page at www.facebook.com/authorcolleenhoover where she loves to give away more free stuff when her husband isn't looking.
Colleen also wants the world to know that writing short biographies in third person is incredibly awkward.