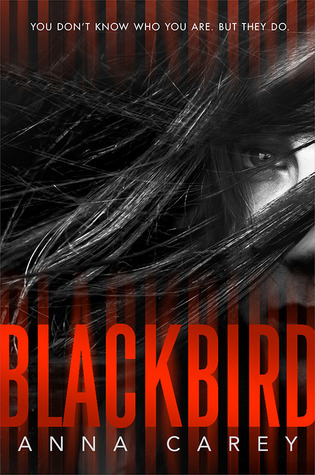 Publication: 16th September 2014
Publisher: HarperTeen
Pages: 256
Genre: Mystery
Age Appropriate: Young Adult
This twisty, breathless cat-and-mouse thrill ride, told in the second person, follows a girl with amnesia in present-day Los Angeles who is being pursued by mysterious and terrifying assailants.
A girl wakes up on the train tracks, a subway car barreling down on her. With only minutes to react, she hunches down and the train speeds over her. She doesn't remember her name, where she is, or how she got there. She has a tattoo on the inside of her right wrist of a blackbird inside a box, letters and numbers printed just below: FNV02198. There is only one thing she knows for sure: people are trying to kill her.
On the run for her life, she tries to untangle who she is and what happened to the girl she used to be. Nothing and no one are what they appear to be. But the truth is more disturbing than she ever imagined.
The Maze Runner series meets Code Name Verity, Blackbird is relentless and action-packed, filled with surprising twists.
My Thoughts.
Blackbird is the first book in an all new duology, an action packed, thrilling mystery that will keep you on the edge of your seat as you make your way through this exciting story and discover the memories and reasons for the heroine's amnesia along with her and the meaning of the blackbird tattoo on her wrist.
Waking up on the train tracks with no memory of how she got there or who she is, she soon finds herself on the run, being tracked and hunted by not only the police but total strangers as well, with the help of a boy Ben that she meets, at the beginning of the book she begins a journey to discover who she was and why total strangers are so intent on killing her.
We're left with a shock twist at the end that left me totally gobsmacked, and has me desperately wanting the next book.
A fast paced and quick read, that while told in second person perspective took some time to get used to, but was thoroughly enjoyable.
I give this 4/5 stars.
Anna Carey is the author of The Eve Trilogy (Eve, Once, Rise) and the forthcoming Blackbird series, which hits shelves September 16th, 2014. She studied creative writing at NYU and has an MFA in fiction from Brooklyn College. She likes miniatures, subway generated wind, flea markets, chalkboard silhouettes, dance-offs, arnold palmers, Chinese finger traps, and top-of-your-lungs car singing. She dislikes pennies, paper receipts, and tunafish.
For delayed response times, please contact her through this site. For instant gratification, please find her on twitter.
@AnnaCareyBooks