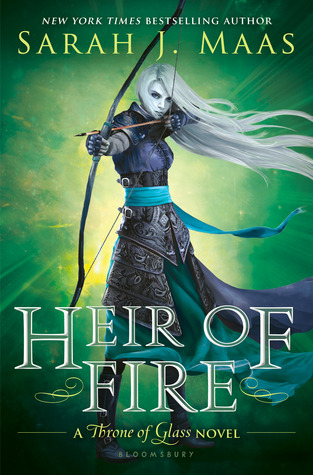 Publication: 2nd September 2014
Publisher: Bloomsbury USA Children's
Pages: 565
Genre: Fantasy
Age Appropriate: Young Adult
Lost and broken, Celaena Sardothien's only thought is to avenge the savage death of her dearest friend: as the King of Adarlan's Assassin, she is bound to serve this tyrant, but he will pay for what he did. Any hope Celaena has of destroying the king lies in answers to be found in Wendlyn. Sacrificing his future, Chaol, the Captain of the King's Guard, has sent Celaena there to protect her, but her darkest demons lay in that same place. If she can overcome them, she will be Adarlan's biggest threat – and his own toughest enemy.
While Celaena learns of her true destiny, and the eyes of Erilea are on Wendlyn, a brutal and beastly force is preparing to take to the skies. Will Celaena find the strength not only to win her own battles, but to fight a war that could pit her loyalties to her own people against those she has grown to love?
My Thoughts.
Heir Of Fire is the epic third instalment in the utterly amazing Throne Of Glass series, featuring everyone's favorite assassin Celaena Sardothien, as she arrives in Wendlyn, a shell of the girl we first met, broken down by her losses of the people she loves and also the betrayal of the ones she trusted most.
This book gave me all the feels I could ever want in a series, as we suffer along with Celaena as she learns to finally let go of all that's holding her back and to finally become and feel worthy of the person that she was destined to be, all this is thanks to Rowan, a fae Prince who is given the task of training her, until she can be deemed worthy enough to cross over into Doranelle to get the answers from the fae Queen Maeve about the Wyrdmarks among other things.
Throughout this book we are also given Pov's of Chaol, Dorian and Manon a Blackbeak witch, I liked that with Celaena away we still got to keep up with what was going on in Adarlan and the rebel forces (led by an unlikely leader) as they plan to take down the King and his evil plans.
I really don't know how I'm going to hold out until next year to read the next book, with so much going on and so many things occurring at the end of the book, I'm desperate to get my hands on a copy, I'm so enthralled with this world and characters that Sarah has created, this could arguably be the best Fantasy series ever written!
I went through a whole array of feelings reading this that had me at times in tears, joyful, sad and morose as we travel through the amazing writing and world building that makes this series as fantastic as it is, coming in at a good 565 pages this book is huge, but there is no filler here, this book I feel needed to be this long to get us through the build up to what is sure to be one action packed fourth book.
I feel there's nothing that Sarah can do wrong with this series, although I'm still unsure whom I'm hoping to see Celaena end up with, Chaol who I adore or Rowan who took me some time to warm up to but I can see the potential, decisions, decisions.
I can't recommend this book or series enough, the hype is real people, if you haven't read any of these books then you're definitely missing out!
I give this 5/5 stars.
Sarah J. Maas is the New York Times and USA Today bestselling author of the Throne of Glass series (Heir of Fire, Book 3, will be out in September 2014). Starting in Spring 2015, her New Adult Fantasy series, A Court of Thorns and Roses, will be published by Bloomsbury as well.
Sarah lives in Southern California, and over the years, she has developed an unhealthy appreciation for Disney movies and bad pop music. She adores fairy tales and ballet, drinks too much coffee, and watches absolutely rubbish TV shows. When she's not busy writing, she can be found exploring the California coastline with her husband.