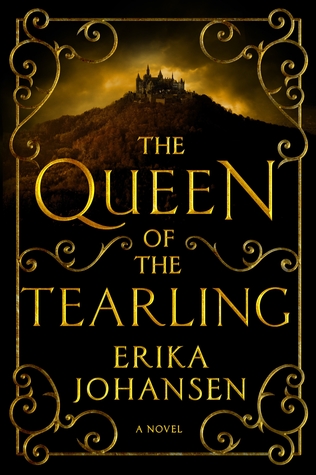 Publication: 8th July 2014
Publisher: Harper
Pages: 434
Genre: Fantasy
Age Appropriate: Adult
On her nineteenth birthday, Princess Kelsea Raleigh Glynn, raised in exile, sets out on a perilous journey back to the castle of her birth to ascend her rightful throne. Plain and serious, a girl who loves books and learning, Kelsea bears little resemblance to her mother, the vain and frivolous Queen Elyssa. But though she may be inexperienced and sheltered, Kelsea is not defenseless: Around her neck hangs the Tearling sapphire, a jewel of immense magical power; and accompanying her is the Queen's Guard, a cadre of brave knights led by the enigmatic and dedicated Lazarus. Kelsea will need them all to survive a cabal of enemies who will use every weapon—from crimson-caped assassins to the darkest blood magic—to prevent her from wearing the crown.
Despite her royal blood, Kelsea feels like nothing so much as an insecure girl, a child called upon to lead a people and a kingdom about which she knows almost nothing. But what she discovers in the capital will change everything, confronting her with horrors she never imagined. An act of singular daring will throw Kelsea's kingdom into tumult, unleashing the vengeance of the tyrannical ruler of neighboring Mortmesne: the Red Queen, a sorceress possessed of the darkest magic. Now Kelsea will begin to discover whom among the servants, aristocracy, and her own guard she can trust.
But the quest to save her kingdom and meet her destiny has only just begun—a wondrous journey of self-discovery and a trial by fire that will make her a legend…if she can survive.
The Queen of the Tearling introduces readers to a world as fully imagined and terrifying as that of The Hunger Games, with characters as vivid and intriguing as those of The Game of Thrones, and a wholly original heroine. Combining thrilling action and twisting plot turns, it is a magnificent debut from the talented Erika Johansen.
My Thoughts.
I have to admit that this book wasn't on my radar at all until it was announced that Emma Watson had signed on for the movie adaptation, reading the synopsis had me intrigued, fantasy is a genre that I do enjoy to read but I seldom get a chance to, but I never would have guessed how much I would love this book.
Erika's writing captured me from the very first sentence, and before I knew it I was completely absorbed in the world-building and the well fleshed out characters.
Kelsea a Princess, has been in hiding ever since she was a baby, now that she has turned nineteen she is to return to Tearling to be anointed Queen, of course it's no smooth sailing, instead numerous people will use any means necessary to stop her on her journey, it's from here that we begin to learn just what kind of Queen she will be, whilst trying to fix the mistakes and problems that her long dead Mother and former Queen have left her with, incurring the wrath of the Regent who is also her Uncle and the Red Queen of Mortmesne while trying to right these wrongs.
We are introduced to quite a few new characters but none that catch my eye more than two in particular who will leave you incredibly eager to learn their stories and the secrets they hold, Lazarus (Mace) the Captain of the Queen's Guard who also guarded her Mother, and holds a wealth of information about the identity of Kelsea's Father and the circumstances surrounding her Mothers's death, and last but not least Fetch, we pretty much get no information on him only little tidbits that just aren't enough, I have so many questions about these two and I hope that they will be answered in the next book.
With a plot filled with action, a heroine that has no qualms about standing up for what she believes in and the sometimes humorous way that Kelsea speaks her mind, this has only made me more anxious to get my hands on the next book.
Erika has crafted a world that you will lose yourself in, this was a one sitting read for me, I just couldn't seem to tear my eyes away from this amazing story.
One of my favorite fantasy books of all time.
I give this 5/5 stars.
Erika Johansen was educated at Swarthmore College in Pennsylvania before attending the celebrated Iowa Writers Workshop, where she earned a Master of Fine Arts degree. She later became an attorney.
The Queen Of The Tearling
– the first book in a trilogy – is her debut. Erika lives in the San Francisco Bay Area of California.