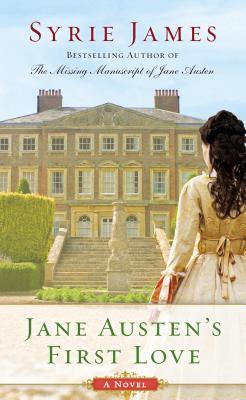 Jane Austen's First Love
Publication: 5th August 2014
Publisher: Berkley Trade
Pages: 400
Genre: Historical Romance
Age Appropriate: Adult
Inspired by Actual Events
Fifteen-year-old Jane Austen dreams of three things: doing something useful, writing something worthy, and falling madly in love. When she visits her brother in Kent to celebrate his engagement, she meets wealthy, devilishly handsome Edward Taylor—a fascinating young man who is truly worthy of her affections. Jane knows a match between her and Edward is unlikely, but every moment she spends with him makes her heart race—and he seems to return her interest. Much to her displeasure, however, there is another seeking his attention
Unsure of her budding relationship, Jane seeks distraction by attempting to correct the pairings of three other prospective couples. But when her matchmaking aspirations do not all turn out as anticipated, Jane discovers the danger of relying on first impressions. The human heart cannot be easily deciphered, nor can it be directed or managed. And if others must be left to their own devices in matters of love and matrimony, can Jane even hope to satisfy her own heart?
My Thoughts.
I have to start out by saying that I'm not too familiar with Jane Austen, I've only read one book of hers which was 'Pride And Predjudice' which I picked up after enjoying a movie adaptation of said book, however of her personal life I pretty much know nothing, so when the opportunity arose to review this book I was intrigued enough to give it a go, being a fan of historical romance's worked in this book's favor as well.
While this is fiction it's based on true events, helped along by letters written by Jane all those years ago, I've also come to discover that the author is a Jane Austen officiando, so who better to write a book about her younger years, especially as this is not the first book she's written about Jane.
We are taken back to 1791, Jane was fifteen and this was the year she would meet and fall in love with Edward Taylor.
Travelling to Kent with her family to celebrate her older brother's engagement is where she meets Edward for the first time, surrounded by wealth and privilege, her time here will leave a lasting impression that will stay with her for the rest of her life, and just maybe gave her the ideas to come up with the stories she was so famous for.
This is the story you never knew you wanted to know,
For all of you Jane Austen buffs this is one book you need to get your hands on.
Syrie's writing gives you the feeling that you're there with Jane, experiencing everything with her, a fascinating look into the life of one of the greatest authors who ever lived, who still leaves an impression today all these years later of the work she left behind.
I give this 3.5 stars.
Syrie James
is the bestselling author of nine critically acclaimed novels, including The Missing Manuscript of Jane Austen, The Lost Memoirs of Jane Austen, The Secret Diaries of Charlotte Bronte, Nocturne, Dracula My Love, Forbidden, and The Harrison Duet: Songbird and Propositions. Her books have been translated into eighteen foreign languages.
Syrie was named after a character in a radio show that her mother listened to as a girl. Today, Syrie is thrilled that her name is pronounced exactly the same as Siri, the iPhone personal assistant--even if they spell the name incorrectly. :)
Syrie has long been a fan of British literature of the 19th century. She also enjoys reading in a variety of other genres, including historical fiction, paranormal fiction, women's fiction, biography, memoir, romance, mystery, and the classics.
Two of Syrie's favorite authors are Jane Austen and Charlotte Brontë. Syrie's husband Bill, who has joined her in watching all the film versions of Miss Austen's novels several times over and every film version of Jane Eyre and Wuthering Heights ever made, has come to share her enthusiasm, if not her obsession. Syrie also enjoys writing about brilliant, sympathetic, charismatic vampires ... and the paranormal. It was a truly wonderful experience to co-author the novel Forbidden with her son Ryan.
Syrie lived in Paris when she was seven years old, and had visited more than two dozen countries by age eight, which instilled in her a lifelong love of traveling. Her other favorite pursuits include movies, theater, great food, playing games with family and friends, Scrabble, photography, sewing, and the out of doors. Syrie designed and maintains her website,
syriejames.com
, and she welcomes visitor and messages! Like Jane Austen and Charlotte Brontë, Syrie is very fond of the countryside, and loves taking long walks.
Syrie lives with her family in Los Angeles, California. She is a member of the WGA, RWA, and a life member of JASNA (the Jane Austen Society of North America). She spent many years as a screenwriter and enjoys writing both novels and screenplays.
Syrie writes practically every weekday from 10 - 6. She says, "Many people can't wait for the weekend to arrive. It's the opposite for me. I truly love my jam-packed weekends, but from the time I turn off the computer on Friday evening to the moment I'm back in my chair on Monday morning, I'm anxious to get back to the characters I left in limbo, who are just waiting for me to continue their story."