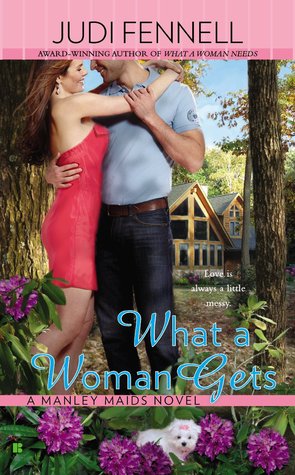 Publication: 4th November 2014
Publisher: Berkley Sensation
Pages: 320
Genre: Contemporary Romance
Age Appropriate: Adult
What happens when three irresistibly sexy brothers lose a poker bet to their enterprising sister? They get hired out for her housecleaning venture. Now, the Manley Maids are at your service. Satisfaction guaranteed. It's what a woman gets...

Business owner Liam Manley has no patience for women like Cassidy Davenport—women happy to spend a man's money without giving a thought to any actual work. But to make good on his bet, Liam must not only tolerate the couture-clad socialite, he'll have to clean up after her. Until Cassidy's father suddenly cuts off her finances. With no money and no home for Liam to clean, Cassidy has no choice but to accept a job offer—as Liam's new maid…

Liam is eager to teach her a lesson about the real world, but he winds up learning a few things himself. Free from her father's influence, Cassidy can finally pursue her own life, and winds up showing Liam how resourceful and determined she can be. Not to mention how sexy she is with (or without) that designer wardrobe. But when sparks fly between them, will it be true love…or just another messy affair?
My Thoughts.
What A Woman Gets is the third book in the Manley Maids series, a fun and enjoyable contemporary romance series sure to leave a smile on your face.
The three Manley brothers have lost a bet to their younger sister, as payment they are to each spend a month cleaning someone's house, this book is about the oldest brother Liam who is sent to clean for Cassidy Davenport a rich socialite who lives off her Dad's fortune, having been burned in the past by an ex-girlfriend who only wanted him for what she could get off him he is not going to make the same mistake twice, when Cassidy is cut off from all her money, apartment, car etc, and is left with just the clothes on her back Liam offers to let her stay at his house, what she doesn't expect is to spend that time cleaning his house to pay her way, Liam soon comes to find that Cassidy is nothing like he thought she'd be, cleaning with no complaints and determined to make her own money and gain her own independence away from under her Dad's thumb, which she's been wanting for quite a while now.
This was my favorite so far of the three books released, I enjoyed seeing the change that Cassidy went through having to give up her life of wealth and privilege and learn to do everyday things that being in her position in life she took for granted, an example was going grocery shopping for the first time ever in her life and she had to work with a budget and then once she got to the checkout discovering that she couldn't afford what she had was a real eye-opener for Cassidy, this story was so well written, I adored these characters and I loved their story so much.
I look forward to Mac's book next, the Manley's Gran has a very good record of matchmaking and I can't wait to see what happens with Mac's story.
One of my favorite contemporary romance series ever, these books are a delightful way to spend your time, definitely a one sit read read, you won't be able to put these books down once you've picked one up.
A great series from a great writer!
I give this 5/5 stars.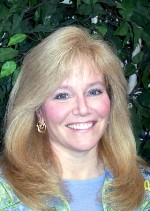 Judi Fennell, author of What a Woman Wants and What a Woman Needs, has had her nose in a book and her head in some celestial realm all her life, including those early years when her mom would exhort her to "get outside!" instead of watching Bewitched or I Dream of Jeannie on television. So she did—right into Dad's hammock with her Nancy Drew books. These days she's more likely to have her nose in her laptop and her head (and the rest of her) at a favorite writing spot, but she's still reading either her latest manuscript or her friends' books, or helping authors bring their books to readers with her formatting business. A PRISM and Golden Leaf Award winner, Judi is the author of lighthearted romantic comedies. She lives in suburban Philadelphia with her own menagerie—which might just include a few of the two-legged kind. Check out excerpts, deleted scenes, reviews, and contests, as well as the chance to dive into a whole new world, on her website, www.JudiFennell.com