Publication: 4th November 2014
Publisher: Berkley Trade
Pages: 304
Genre: Contemporary Romance
Age Appropriate: New Adult
In this emotional and sexy New Adult debut from Brighton Walsh, the only thing more frightening than commitment is hope…
Aspiring chef Cade Maxwell is immediately, viscerally attracted to Winter Jacobson. But it's not her mouthwatering curves he's drawn to—it's the strange emptiness in her eyes. When Cade saves her from a drunken customer with grabby hands, he's shocked at her response…
Winter doesn't need Cade's help. After a lifetime of getting by on her own, she's happy to rely on herself. She's exactly seventy-six days away from graduating college, and if she can hold it together that long, she'll finally be able to rise above the crappy hand she was dealt.
But now, every time she turns around, Cade is there, ready to push her, smile at her, distract her from her plans. Winter knows she can't afford to open up—especially to a man she's terrified to actually want…
My Thoughts.
Every time I pick up a new adult novel it's with a sense of anticipation, I've yet to read a book in this genre that I haven't liked, knowing that this book has had nothing but good reviews and praise heaped upon it, made me quite eager to pick this book up and immerse myself in the world that Brighton has created writing this book.
And I'm delighted to say that I didn't just like this book I adore it, I fell completely in love with the story and the characters, I shed a few tears and ended up putting this book down with a smile on my face.
Winter's secret is heartbreaking, I can understand why she is so closed off and determined that she won't ever have to depend on anybody but herself, life has been hard on her, when we start the book she is seventy-six days away from graduating college with the hope of finding herself a job in her chosen field of graphic design, meanwhile to make ends meet to afford rent and food she works nights at a bar, hating the job but knowing it's the only one she can find that fits around her college classes she gets used to the customers who think that because she has to wear a skimpy uniform that that gives them the right to touch her inappropriately, one night when a guy gets a bit grabby she's saved by Cade who is drawn to Winter immediately, unable to stop thinking about her he shows up every night desperate to know her name and take her out on a date, she eventually relents and they tentively start a relationship, and it's not long before Winter's insecurities, issues of trust and belief that anyone would want her rear there ugly head, can she finally open up to Cade and let go of her past before she loses the best thing that she's ever had in her life.
There's so many things to love about this book, the writing will keep you immersed so that you won't know what's going on around you, forget about putting the book down once you pick it up no matter how many times you tell yourself just one more chapter, before you know it the book is finished and you're left wondering where the time went.
The characters are a highlight here: Winter who is a strong, independent woman struggling to make ends meet but determined that she will do it on her own without anyone's help, but also broken inside and never able to rid herself of the baggage she's been carrying around for so long, never letting anyone see her softer side, too afraid of getting hurt again, and then we have Cade: sexy, strong, caring and more worried about making sure he's there for everybody else than worrying about what he wants, even willing to give up his dream job as a chef so he's there for his sister and niece.
Through being together they'll overcome obstacles and might just make their dreams come true if both of them are willing to let go and give life a chance.
I eagerly await the next book which will be Tessa and Jason's, just from the sneak peek I've read I can tell I'm going to love it already, if you love new adult contemporary romance's then be sure to check this book out, it's amazing.
I give this 5/5 stars.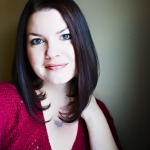 Brighton Walsh spent nearly a decade as a professional photographer before deciding to take her storytelling in a different direction and reconnect with writing. She lives in the Midwest with her husband and two children.