Publication: 4th November 2014
Publisher: Berkley
Pages: 304
Genre: Contemporary Romance
Age Appropriate: Adult
A heartwarming new novel by New York Times bestselling author Jill Gregory about taking a chance on passion, trust, love—and finally healing the past…
For Annabelle Harper, summer in her hometown of Lonesome Way, Montana, means a chance to make a home for her orphaned young nieces and nephew. It's also a chance to find a new direction for her life—one that doesn't include romance. So when rugged Wes McPhee shows up back in town, she has every reason to keep him at a distance…
Even unhappy memories can't keep Wes from returning to Lonesome Way to help his grandmother recover from an injury. And his fear of commitment isn't enough to make him resist the tantalizing heat that he feels whenever he's near Annabelle. But can a wandering man like Wes ever settle down? When an old enemy comes to Lonesome Way, and their dreams of love are threatened, Wes and Annabelle must fight for the future.
My Thoughts.
Sunflower Lane is the fourth book in the Lonesome Way series.
This year is when I discovered my love for small town contemporary romance books, series especially, there's nothing like picking up a first book in a series and becoming absorbed in the lives and loves of small town life, and eagerly awaiting each new release.
Based in Lonesome Way, Montana a different couple is at the heart of each book, but as with all romances the journey to happily ever after is never a smooth one as problems and obstacles must be overcome before they can start their lives together.
Wes McPhee left Lonesome Way at eighteen, determined never to return after having one too many fights and arguments with his Dad vowing to never speak with him again, years later his Dad is dead and Wes returns when his Gran injures herself, not planning on staying past the Fourth of July, he rents a rundown, ramshackle cabin from Annabelle Harper who has become guardian to her orphaned nieces and nephew, sparks fly between the two but with Wes determined to leave will this romance be over before it's begun?
With a cavalcade of appearances from past couples and even some new characters there's something here for everyone.
A fantastic series full of warmth, love, laughter and heartwarming stories that will leave you with a smile in your face.
I look forward to the next book and the next couple to fall in love with.
An extremely enjoyable series by an author that knows how to write a good romance.
I give this 4/5 stars,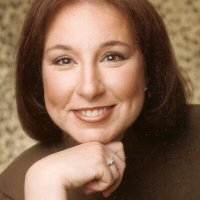 Jill Gregory is a New York Times and USA Today best-selling author of more than thirty five historical and contemporary novels and has been honored with the Romantic Times Lifetime Achievement Award, as well as with back-to-back Reviewer's Choice awards for Best Western Historical Romance. Her books have been published in more than twenty-four countries. Her contemporary novel SOMETHING BORROWED, SOMETHING BLUE, co-written with Karen Tintori, was adapted into a CBS TV movie of the week and was excerpted in Cosmopolitan Magazine.
Jill's most recent series is her contemporary Lonesome Way book series (SAGE CREEK, LARKSPUR ROAD, BLACKBIRD LAKE, SUNFLOWER LANE), set in Montana and published by Berkley Sensation.
Jill grew up in Chicago and received her bachelor of arts degree in English from the University of Illinois. An animal lover, Jill loves long walks, reading, hot tea on a winter's day, and the company of friends. She lives in Michigan with her husband, and enjoys her home overlooking the woods where the deer, rabbits, squirrels, and an occasional owl or hawk come out to play.
I love hearing from my readers and they can email me at JillyGreg@aol.com, or find me on Facebook, Twitter (@Jill_Gregory), and Pinterest. To see my latest news, readers can get the scoop at my website, www.jillgregory.net