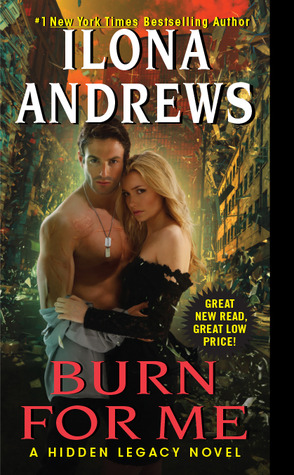 Publication: 28th October 2014
Publisher: Avon
Pages: 382
Genre: Urban Fantasy
Age Appropriate: Adult
#1 New York Times bestselling author Ilona Andrews launches a brand new Hidden Legacy series, in which one woman must place her trust in a seductive, dangerous man who sets off an even more dangerous desire…
Nevada Baylor is faced with the most challenging case of her detective career—a suicide mission to bring in a suspect in a volatile case. Nevada isn't sure she has the chops. Her quarry is a Prime, the highest rank of magic user, who can set anyone and anything on fire.
Then she's kidnapped by Connor "Mad" Rogan—a darkly tempting billionaire with equally devastating powers. Torn between wanting to run or surrender to their overwhelming attraction, Nevada must join forces with Rogan to stay alive.
Rogan's after the same target, so he needs Nevada. But she's getting under his skin, making him care about someone other than himself for a change. And, as Rogan has learned, love can be as perilous as death, especially in the magic world.
My Thoughts.
This is the very first Ilona Andrews (husband/wife team) book that I've ever read, and I don't know why I waited this long, I looooooved this book so much, full of magic, action, witty repertoire, sizzling chemistry and of course the incomparable Connor 'Mad' Rogan.
Nevada Baylor works as a private investigator, after she is threatened with having her business taken away and her family being left homeless she agrees to the case even though the chances are that she won't survive it, in this world people have magical powers and she has been sent after Adam Pierce, a Prime who are the strongest magic users there are, his power is fire and he's extremely dangerous not caring if he hurts or kills anybody, whilst trying to convince Adam to turn himself in to his family she is kidnapped by Mad Rogan who ended up with the moniker for a very good reason, another Prime he is very powerful and against her better judgement Nevada agrees to team up with him and help stop Adam and his nefarious plans.
The main reason I adored this book so much was the interaction between Nevada and Mad, the dialogue between these two was hilarious and I found myself laughing out loud quite a bit, add to that the attraction and sexual tension between these two and it was extremely hard to get myself to put this book down.
Another thing I loved is the fact that although this is an adult urban fantasy there was no sex in this book which we don't see much these days, although there were a couple of steamy kisses, the reason I loved it is because it just prolongs the tension and makes for an interesting storyline, drawing it out so the readers have something to eagerly await.
The concept of this story was so good, I enjoyed that magic was the main aspect.
I cannot wait for the next book, I need some more Mad Rogan, I commend the authors for creating such a fantastic character, I can see myself becoming quite addicted to this series, it was just incredibly written and awesome all around.
I can't recommend this highly enough, a great start to what appears to be an incredible series.
I give 5/5 stars.
Ilona Andrews is the pseudonym for a husband-and-wife writing team. author2smIlona is a native-born Russian and Gordon is a former communications sergeant in the U.S. Army. Contrary to popular belief, Gordon was never an intelligence officer with a license to kill, and Ilona was never the mysterious Russian spy who seduced him. They met in college, in English Composition 101, where Ilona got a better grade. (Gordon is still sore about that.)
Gordon and Ilona currently reside in Texas with their two children, and many dogs and cats. They have co-authored two series, the bestselling urban fantasy of Kate Daniels and romantic urban fantasy of The Edge.