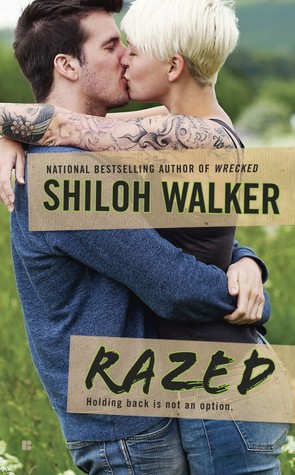 Publication:
2nd December 2014
Publisher:
Berkley
Pages:
320
Genre:
Contemporary Romance
Age Appropriate:
Adult
Buy It:
Amazon
|
B&N
Tattoo artist Keelie Jessup can handle that someone else has claimed the man of her dreams. She's just not pleased with her remaining options…

Keelie doesn't believe in the "perfect man." But the men who are worth the trouble are usually taken—like her business partner Zach Barnes. After a string of bad luck and the lost chance with Zach, Keelie decides that maybe flying solo—and living with suppressed desires—is the key to happiness.

As a photographer, Zane Barnes has an eye for the human form, and his eyes can't get enough of Keelie's curves. Unfortunately, Keelie is like most women—always fawning over his little brother, Zach. Zane is about ready to give up, but then a few stolen moments at his brother's wedding have him thinking maybe there's a chance there after all. Now he just has to prove that the perfect man does exist…for her.
My Thoughts.
Razed is the second book in a contemporary romance series about the Barnes Brothers.
Zane is the eldest of the Barnes Brothers, a photographer who has finally set his mind on making a career out of his photography, whilst also pursuing Keelie the co-owner of his brother Zach's tattoo shop.
Zane has had a crush on Keelie for quite a long while now, when she finally agrees to meeting for coffee as a start he is over the moon, but Keelie is hiding secrets from her past, for her to move forward and have a future that involves Kane she will need to face what she's been running away from for all these years.
Zane and Keelie made such a cute couple, I really enjoyed their story and I see the beginning of a potential romance between Travis and Anais.
From the backstories, romance and the camaraderie between the brothers, these books are so good and a treat to read.
I look forward to the next book and Trey's story.
This Shiloh Walker series is one to watch.
I gives this 4/5 stars.
Shiloh Walker has been writing since she was a kid. She fell in love with vampires with the book Bunnicula and has worked her way up to the more…ah…serious vampire stories. She loves reading and writing anything paranormal, anything fantasy, and nearly every kind of romance. Once upon a time she worked as a nurse, but now she writes full time and lives with her family in the Midwest.