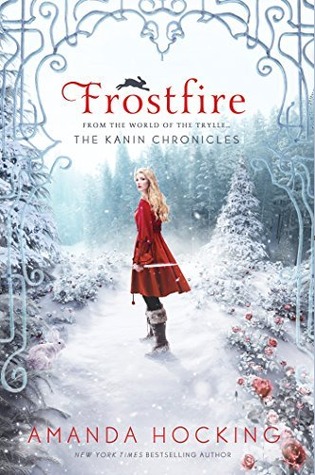 Publication: 6th January 2015
Publisher: St Martins Griffin
Pages: 321
Genre: Fantasy
Age Appropriate: Young Adult
Bryn Aven is an outcast among the Kanin, the most powerful of the troll tribes.
Set apart by her heritage and her past, Bryn is a tracker who's determined to become a respected part of her world. She has just one goal: become a member of the elite King's Guard to protect the royal family. She's not going to let anything stand in her way, not even a forbidden romance with her boss Ridley Dresden.
But all her plans for the future are put on hold when Konstantin– a fallen hero she once loved – begins kidnapping changelings. Bryn is sent in to help stop him, but will she lose her heart in the process?
My Thoughts.
Frostfire is the first book in the spin-off series from Amanda Hocking's Trylle trilogy.
The focus is on the Kanin troll tribe and Bryn Aven, an outcast half-blood who as a tracker is determined to rise in rank and one day work for the Kings Guard, and protect the Royal Family.
When a wanted Kanin fugitive Konstantin Black who has a history with Bryn, is found to be attempting to kidnap high ranking changelings before the trackers can retrieve them, Bryn is determined to capture him once and for all.
With a possible forbidden romance between Bryn and her boss Ridley on the horizon, there is much to love in this new series.
With appearances of characters from the Trylle series spread throughout the story, there is something here for old fans as well as new ones, and while I do recommend reading the Trylle trilogy first you could read Frostbite without having read the previous books.
I love Amanda's writing style and I can't wait for the next book, while this didn't exactly end on a cliff-hanger it seemed to end suddenly and left me anxiously needing book two.
Drawn in from the first page, this was an exciting, action packed story with intriguing characters and an extremely enjoyable plot.
If you're after a great read, be sure to pick this book up.
I give this 4/5 stars.
Amanda Hocking is a lifelong Minnesotan obsessed with Batman and Jim Henson. In between watching cooking shows and drinking too much Red Bull Zero, she writes young adult urban fantasy and paranormal romance.
Her New York Times best-selling series the Trylle Trilogy has been optioned for films. She has published fifteen novels, including the Hollows and the Watersong series. Frostfire - the first book in her newest trilogy, the Kanin Chronicles - will be out on January 6, 2015.