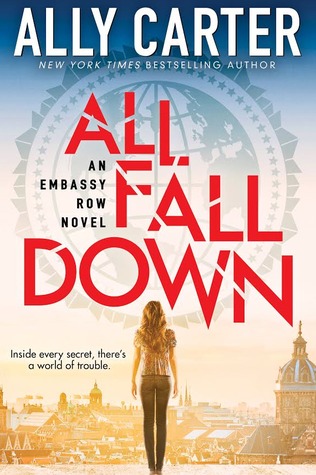 Publication: 20th January 2015
Publisher: Scholastic Press
Pages: 320
Genre: Contemporary/Mystery
Age Appropriate: Young Adult
Grace can best be described as a daredevil, an Army brat, and a rebel. She is also the only granddaughter of perhaps the most powerful ambassador in the world and Grace has spent every summer of her childhood running across the roofs of Embassy Row.
Now, at age sixteen, she's come back to stay - in order to solve the mystery of her mother's death. In the process, she uncovers an international conspiracy of unsettling proportions, and must choose her friends and watch her foes carefully if she and the world are to be saved.
My Thoughts.
All Fall Down is the first book in an all new series by Ally Carter, a contemporary, mystery story that will keep you guessing until the final shocking twist that you will never see coming!
Grace is sent to live at Embassy Row with her Grandfather while her Dad is serving her country overseas, as the mental state of our main protagonist Grace is put into question by her family after the death of her Mother in a fire three years ago, but Grace who was there is adamant that her Mom was murdered by a man with a scarred face, shot and dead before the fire took hold but no one will believe her, having spent time since in hospital on medication, everyone believes she's crazy, but Grace is determined she will find the man that murdered her Mom and make him pay.
Whilst getting to know the kids from Embassy Row and making friends, she stumbles upon a secret meeting taking place between two men, one who happens to be her Mom's murderer, she waste's no time in letting her Grandfather who is the American Ambassador know that the killer is close by, but again she's not believed, with her help of her new friends Noah, Megan, Alexei and Rosie they help her track and follow the scarred man hoping to discover who he's having these meeting's with and why.
This book kept me on my toes, full of suspense you won't want to stop reading until you reach the jaw dropping ending, and hype you up enough for the next book which I'm quite excited for.
Never dull or boring, this at times pulse-pounding read will have you glued to the pages as the story absorbs you and draws you in to Embassy Row.
This was my first ever Ally Carter book and it certainly won't be my last, a very enjoyable plot with a great storyline and intriguing characters.
I give this 4/5 stars.
I was born and raised in Oklahoma. My mother was a teacher and my father a farmer and rancher. I have one older sister.
In high school, I was very active in a number of student organizations and graduated as co-valedictorian of my senior class. I then attended Oklahoma State University and Cornell University and worked for several years in the agricultural industry before writing full-time.
My first novel, Cheating at Solitaire (Berkley) was published in 2005. The following year I published the sequel to Solitaire, Learning to Play Gin. There are no more plans for future books in that series at this time.
My first novel for young adults, I'd Tell You I Love You but Then I'd Have to Kill You was published by Disney-Hyperion in April 2006. Love You Kill You (as we call it) was followed by Cross My Heart and Hope to Spy (October 2007), Don't Judge a Girl By Her Cover (June 2009), Only the Good Spy Young (June 2010), Out of Sight, Out of Time (March 2012). United We Spy (September 2013) is the sixth–and final–Gallagher Girls novel.
I am also the author of Heist Society (February 2010) and its sequels Uncommon Criminals (June 2011), and Perfect Scoundrels (February 2013).
In January 2013 I published the cross-over novella Double-Crossed that features characters from both the Gallagher Girls and Heist Society. It is available for free at spiesandthieves.com and wherever ebooks are sold.
ALL FALL DOWN is the first book in my new Embassy Row series. It will be published on January 20, 2015 and will launch a new three-book series with Scholastic.
My books have been published in more than twenty countries and have appeared on best-seller lists from the New York Times, USA Today, the Wall Street Journal, Barnes and Noble, IndieBound, and Bookscan. They have sold over two million copies in the United States.
I am one of the luckiest people in the world, and today, I'm able to do the job I wanted to do when I was a kid, and I am back living in Oklahoma.
Ally does her best to stay in touch with readers. Keep up with her via this site, her official
Facebook
,
Instagram
,
Tumblr
, and
Twitter
.