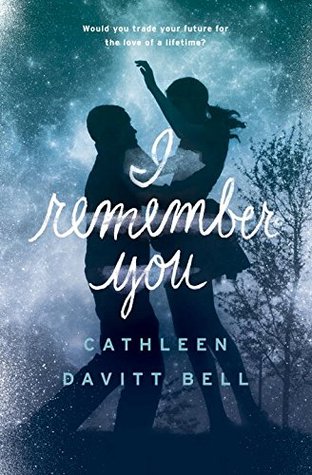 I Remember You
For fans of THE FUTURE OF US comes an engrossing story of two teens, whose love for each other is tested by time and fate.
Lucas and Juliet couldn't be more different from each other. But from the moment Lucas sees Juliet, he swears he remembers their first kiss. Their first dance. Their first fight. He even knows what's going to happen between them—not because he can predict the future, but because he claims to have already lived it.
Juliet doesn't know whether to be afraid for herself or for Lucas. As Lucas's memories occur more frequently, they also grow more ominous. All Juliet wants is to keep Lucas safe with her. But how do you hold on to someone you love in the present when they've begun slipping away from you in the future?
My Thoughts.
It's always great when I come across a book that tugs at the heart strings and makes such an emotional impact, that hours later I'm still thinking about it.
I really enjoy any story that has a past/future intertwining, when it's written so well like this book was, it also helps when the characters are extremely likeable and easy for the reader to connect to and hence you find yourself emotionally vested.
Lucas is a high school star hockey player, Juliet is a straight A student, so when Lucas admits to Juliet that he has memories of the two of them together Juliet thinks he has a few screws loose, but when events that he has described start to occur, Juliet comes to the realisation that he's telling the truth and that Lucas' future self is somehow sending memories to his seventeen year old past self.
I shed quite a few tears throughout this book, it's a sad story in a way.
I really liked Cathleen's writing and I hope to read her other published works at some point.
I adored this book and I can't praise it enough.
I give this 5/5 stars.
I was born in Princeton, NJ in 1971 and lived there until I was twelve, when we moved with my mom moved to West Hartford, CT.
My dad and mom had been divorced when I was two, and my dad lived in Williamstown, MA. I spent summers and school vacations with him.
I went to college in New York, at Barnard, and stayed in New York after I graduated. I worked as a newspaper reporter for three months, as a salesperson for a multimedia publisher for three years, and as a market researcher, and finally a copywriter.
I'm married and have two awesome kids ages two and five. I lived in Manhattan for sixteen years, but now am in Brooklyn, living downstairs from my sister and her family. I have two dogs named Oscar and Oprah. My favorite food is pizza and, strangely, in my thirties, I've developed a great love for playing catch. Slipping is my first book.