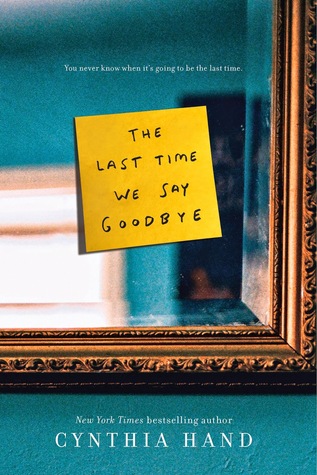 The Last Time We Say Goodbye
Publication: 10th February 2015
Publisher: Harper Teen
Pages: 400
Genre: Contemporary
Age Appropriate: Young Adult
There's death all around us.
We just don't pay attention.
Until we do.
The last time Lex was happy, it was before. When she had a family that was whole. A boyfriend she loved. Friends who didn't look at her like she might break down at any moment.
Now she's just the girl whose brother killed himself. And it feels like that's all she'll ever be.
As Lex starts to put her life back together, she tries to block out what happened the night Tyler died. But there's a secret she hasn't told anyone-a text Tyler sent, that could have changed everything.
Lex's brother is gone. But Lex is about to discover that a ghost doesn't have to be real to keep you from moving on.
From New York Times bestselling author Cynthia Hand,
The Last Time We Say Goodbye
is a gorgeous and heart-wrenching story of love, loss, and letting go.
My Thoughts.
It's not very often that I read a book that has me in tears countless times throughout the story, I was so emotionally invested that I lost count of the amount of times that I had to put the book down because it was just so sad and I couldn't stop the tears from falling without taking a break to calm down.
The Last Time We Say Goodbye is a devastatingly sad story, heartbreaking and hard to read without thinking about how you would handle it if it happened to you.
After her brother Ty kills himself, Lex is finding it hard to cope, she has broken up with her boyfriend and closed herself off from her friends, and just seems to be going through the motions, same as her Mom who isn't dealing with it at all, her therapist gets her to start writing her thoughts and feelings down, and it's through this that we see how much Lex is hurting, we also get to read about memories of Ty throughout his life, up to the day he ended it.
Even now that I've finished reading this book, just thinking about it has me tearing up, it made such an impact, the fact that we discover in the acknowledgements that Cynthia's own brother committed suicide when he was seventeen helps you to understand how she was able to make this story as devastating as it was from her own personal experience.
I love Cynthia's books, I'm a huge fan of her Unearthly series, and I was excited when I received a copy to review, I flew through it it's a beautifully written story that will stay with me for a long time to come.
You'll definitely need the tissues for this one,I can't praise this book enough.
I give this 5/5 stars.
Cynthia Hand is the New York Times bestselling author of the Unearthly series with HarperTeen: UNEARTHLY, HALLOWED, RADIANT (an enovella) and BOUNDLESS. Currently she lives in southern California with her husband and two small children. She teaches courses in creative writing at Pepperdine University. Her next book, THE LAST TIME WE SAY GOODBYE, will be released in February 2015.