Publication: 3rd March 2015
Publisher: Berkley
Pages: 336
Genre: Contemporary Romance
Age Appropriate: Adult
As the oldest of the ten Abbott siblings, Hunter prides himself on his ability to solve other people's problems, but now he has a problem of his own—how to convince the woman of his dreams that his love is for keeps.
As the chief financial officer, Hunter Abbott manages the family's various business interests while "fixing" things for the people he loves. But the one thing he can't fix is his undeniable attraction to Megan Kane. Instead, Hunter is prepared to do whatever it takes to show Megan that he's the man for her.
Megan's sister rocks her with the news that she and her husband are moving overseas, leaving Megan truly alone. With her sister—and her job at the diner—going away, Megan finds herself leaning on the sexy, button-down accountant who isn't afraid to lay it all on the line for her. But Megan has watched too many people she loves leave her. Can she risk her heart on Hunter?
My Thoughts.
The Green Mountain series is fast becoming one of my all time favorites, thanks to the great writing, humor and loveable characters that make up the Abbott family, there's so much to love with each and every book released in the series.
The camaraderie between the ten siblings are one of the things I enjoy most, that and the sweet, charming and cute romances which are the feature of every book, with some steamy and sizzling love scenes to boot there's something here for everyone, you'll find nothing to fault in Marie's writing.
Hunter is the eldest Abbott sibling, everything in his life is structured, planned and ordered, never deviating from his routine, he has also has had a crush for the longest time on his local diner's waitress Megan who has had a crush for quite a while until recently on Hunter's brother Will, when Megan's sister who owns the diner announces that she and her husband Brett are selling the diner and moving to France, Megan is understandably upset having been raised by her sister after their parents died when she was in high school, with her only family moving to another country and no job she is distraught, and that's how Hunter finds her, and it's here where their relationship begins.
I loved how Megan was able to take Hunter away from his rigid schedule and responsibilities to have fun and enjoy himself without worrying about anything 24/7, also the appearances of all of the other Abbott's always puts a smile on my face, especially the twins Lucas and Landon who's books I can't wait for.
Guaranteed to have you laughing and just generally having a good time while making your way through this series, I highly recommend that anyone who loves small town contemporary romances pick these books up.
I give this 5/5 stars.
Meet the Author: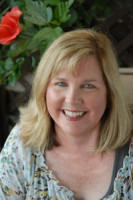 Marie Force is the New York Times, USA Today and Wall Street Journal bestselling, award-winning author of more than thirty contemporary romances, including the Green Mountain series, the McCarthys of Gansett Island series, the Fatal series, the Treading Water series and numerous stand-alone books.