Publication: 3rd March 2015
Publisher: Sourcebooks Casablanca
Pages: 384
Genre: Contemporary Romance
Age Appropriate: Adult
Sidonie Lindstrom's hands and heart are full—she's been uprooted from the urban life she loves, she's grieving for her brother while raising her foster son Luis, and she's trying to find a job with meaning. But her burdens feel lighter when she meets rural lawyer Mackenzie Knightley. Their attraction is powerful and unexpected. Life is perfect… until Sid learns that Mack hasn't been completely honest about his job.
When problems arise with Luis' foster care situation, she must decide: can she trust Mack again, when she has so much more to lose?
My Thoughts.
Sometimes there will come along a series that you absolutely fall in love with, eventually that series that you adore is going to come to an end, unfortunately Kiss Me Hello is the last book in this trilogy and I am devastated, from the very first book I've been enraptured by the three Knightley brothers and their pursuit of a happily ever after.
There is only one complaint I have about this series, and that is a lack of an epilogue, I want to know what's happening two-three years later, pregnancies, marriages, adoptions and the law firm, I just feel like a lot of people who have read these books would want to know, not just me, but that's a tiny detail that I can overlook as much as it kills me because these books are awesome!
Throughout the first two books the eldest Knightley brother Mackenzie 'Mac' has been an enigma, you don't really find out that much about his character at all, that's why I was so excited to read this book and finally discover who this man is and why he's been celibate for the last ten years, never showing any interest in women in that whole time, that is until he meets Sidonie 'Sid' and her foster son Luis who recently moved into his childhood home, through the appearance of two work horses Daisy and Buttercup that used to belong to the Knightley family, he gets to know Sid and Luis, and helps her fight to keep Luis with the threat of him being moved elsewhere after DSS fails to do their job properly.
With both Mac and Sid having secrets that have affected both their lives up to now, can they both accept each other's problems and live happily ever after, because you just don't know when a miracle can happen, and make everyone's dreams come true.
I cannot praise this series enough or Grace's fantastic writing which have made these books as great as they are, I just really, really, really don't want this series to be over, I've enjoyed each and every word, sentence, paragraph, page and chapter in my journey through the Knightley brothers stories, I wish it would have never ended.
An astounding series filled with amazing characters that Grace has crafted to perfection.
I give this 5/5 stars.
***About Grace Burrowes***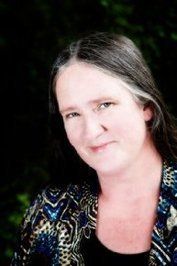 New York Times
and
USA Today
bestselling author Grace Burrowes' bestsellers include
The Heir
,
The Soldier
,
Lady Maggie's Secret Scandal
,
Lady Sophie's Christmas Wish
, and
Lady Eve's Indiscretion
.
The Heir
was a
Publishers Weekly
Best Book of 2010,
The Soldier
was a
PW
Best Spring Romance of 2011,
Lady Sophie's Christmas Wish
won Best Historical Romance of the Year in 2011 from RT Reviewers' Choice Awards,
Lady Louisa's Christmas Knight
was a
Library Journal
Best Book of 2012, and
The Bridegroom Wore Plaid
was a
PW
Best Book of 2012. Her Regency romances have received extensive praise, including starred reviews from
Publishers Weekly
and
Booklist
. Grace is branching out into short stories and Scotland-set Victorian romance with Sourcebooks. She is a practicing family law attorney and lives in rural Maryland.
Find Grace Here: Website | Facebook | Twitter | Goodreads