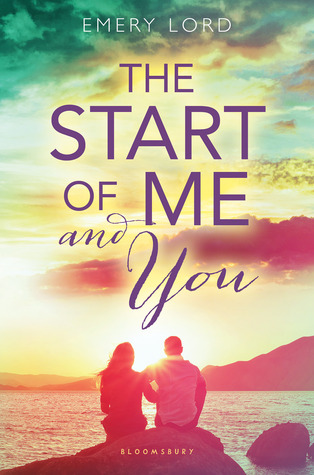 The Start of Me and You
Publication: 31st March 2015
Publisher: Bloomsbury
Pages: 384
Genre: Contemporary Romance
Age Appropriate: Young Adult
Following her pitch-perfect debut Open Road Summer, Emery Lord pens another gorgeous story of best friends, new love, & second chances.
Brimming with heartfelt relationships and authentic high-school dynamics
The Start of Me and You
proves that it's never too late for second chances.
It's been a year since it happened—when Paige Hancock's first boyfriend died in an accident. After shutting out the world for two years, Paige is finally ready for a second chance at high school . . . and she has a plan. First: Get her old crush, Ryan Chase, to date her—the perfect way to convince everyone she's back to normal. Next: Join a club—simple, it's high school after all. But when Ryan's sweet, nerdy cousin, Max, moves to town and recruits Paige for the Quiz Bowl team (of all things!) her perfect plan is thrown for a serious loop. Will Paige be able to face her fears and finally open herself up to the life she was meant to live?
My Thoughts.
The Start Of Me And You was one of my most anticipated books of 2015, the synopsis sounded right up my alley, something that I would love, and I'm happy to say that this book lived up to my expectations.
Paige is known as the girl who's boyfriend died, it's been a year or so since Aaron died and Paige is still dealing with her grief, but she has a plan, five things she wants to accomplish, to help her move on, one thing being to date her suddenly single long-time crush Ryan, when she makes the acquaintance of nerdy Max, Ryan's cousin, it will take a while for Paige to realise that what she thinks she wants and what she actually wants are two entirely different things, and that Max may just be the one she wants after all.
I have to say how much I loved Max's character, I really enjoy it when we have a geeky, nerdy guy as the male lead, which we don't get enough of in YA contemporaries in my opinion.
The fact that there was no insta-love made this so pleasurable to read, with some great supporting characters that only add to the awesomeness.
This was my first book of Emery's and it sure won't be the last.
Very enjoyable, a quick read that was hard to put down.
I give this 4/5 stars.
About the author:
Emery Lord is a 20-something Midwestern girl who writes stories about high school and best friends and weird families and the crushes that make you feel combustibly alive and also more awkward than you thought was possible. If you're not sure how to pronounce Emery, try slurring the name "Emily," and that will get you really close.

She lives in Cincinnati in a 100 year-old pink row house with her BFF/husband, a closet full of dresses, and lots of books. If karaoke-ing in grocery store aisles or guzzling coffee while impulse shopping were illegal, Emery would be writing her overemotional YA books from jail. Also, she makes up words sometimes. Like combustibly.

OPEN ROAD SUMMER, her first YA novel, is out now with Bloomsbury. Her second, The Start of Me & You, will be released March 31, 2015.
Website
|
Twitter