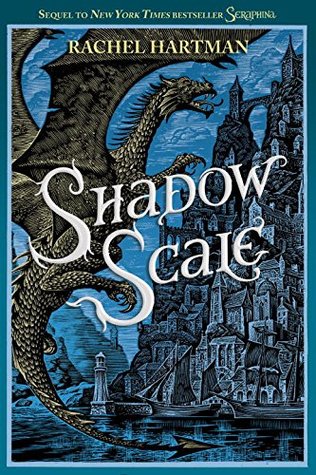 Publication: 10th March 2015
Publisher: Random House Children's Books
Pages: 608
Genre: Fantasy
Age Appropriate: Young Adult
Seraphina took the literary world by storm with 8 starred reviews and numerous "Best of" lists. At last, her eagerly awaited sequel has arrived—and with it comes an epic battle between humans and dragons.
The kingdom of Goredd: a world where humans and dragons share life with an uneasy balance, and those few who are both human and dragon must hide the truth. Seraphina is one of these, part girl, part dragon, who is reluctantly drawn into the politics of her world. When war breaks out between the dragons and humans, she must travel the lands to find those like herself—for she has an inexplicable connection to all of them, and together they will be able to fight the dragons in powerful, magical ways.
As Seraphina gathers this motley crew, she is pursued by humans who want to stop her. But the most terrifying is another half dragon, who can creep into people's minds and take them over. Until now, Seraphina has kept her mind safe from intruders, but that also means she's held back her own gift. It is time to make a choice: Cling to the safety of her old life, or embrace a powerful new destiny?
My Thoughts.
Shadow Scale is the last book in the Seraphina duology, a monster of a book at six hundred pages, it's here in the length of the book that I had problems, for the amount of pages that there is there was not a whole lot of story and not a lot happened until towards the end, I struggled getting through this book, normally I can finish a book this size in about two days, but Shadow Scale took me over a week, I just wasn't in a rush to pick it up once I'd put it down.
The other problem I had was with the way the book and the series ended, the whole romance situation that was hinted and teased about was a major disappointment, I was invested in the relationship between Seraphina and Kiggs and I don't understand why the author decided to do what she did, the absence of Orma throughout most of the book was greatly missed, I liked the idea of this series but sadly it didn't blow my mind, I wonder if maybe my expectations were perhaps a bit too high.
I really wanted to love this series more than I actually did, I do recommend this series to all fans of the fantasy genre.
I give this 3/5 stars.
About the Author:
As a child, RACHEL HARTMAN played cello, lip-synched Mozart operas with her sisters, and fostered the deep love of music that inspired much of her award-winning debut novel, SERAPHINA. Born in Kentucky, Rachel has lived in Philadelphia, Chicago, St. Louis, England, and Japan. She now lives with her family in Vancouver, Canada. A New York Times bestseller, Seraphina won the William C. Morris Award, received eight starred reviews, and was named to multiple "best of" lists. To learn more, please visit SeraphinaBooks.com or RachelHartmanBooks.com.