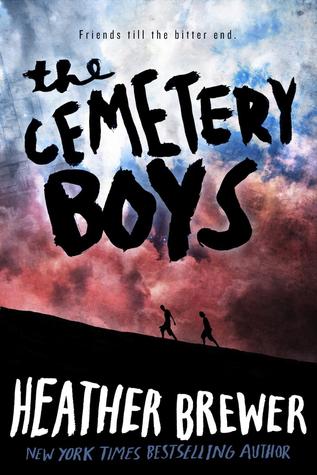 The Cemetery Boys
Publication: 30th March 2015
Publisher: Harper Collins
Pages: 288
Genre: Paranormal
Age Appropriate: Young Adult
When Stephen is forced to move back to the nowhere town where his father grew up, he's already sure he's not going to like it. Spencer, Michigan, is like a town straight out of a Hitchcock movie, with old-fashioned people who see things only in black-and-white. But things start looking up when Stephen meets the mysterious twins Cara and Devon. They're total punks–hardly the kind of people Stephen's dad wants him hanging out with–but they're a breath of fresh air in this backward town. The only problem is, Cara and Devon don't always get along, and as Stephen forms a friendship with the charismatic Devon and something more with the troubled Cara, he starts to feel like he's getting caught in the middle of a conflict he doesn't fully understand. And as Devon's group of friends, who hang out in a cemetery they call The Playground, get up to increasingly reckless activities to pass the summer days, Stephen worries he may be in over his head.
Stephen's fears prove well-founded when he learns of Spencer's dark past. It seems the poor factory town has a history of "bad times," and many of the town's oldest residents attribute the bad times to creatures right out of an urban legend. The legend goes that the only way the town will prosper again is if someone makes a sacrifice to these nightmarish creatures. And while Stephen isn't one to believe in old stories, it seems Devon and his gang might put a lot of faith in them. Maybe even enough to kill for them.
Now, Stephen has to decide what he believes, where his allegiances lie, and who will really be his friend in the end.
My Thoughts.
I was so intrigued with the concept of The Cemetery Boys, the idea of a town that has it's own folklore, an urban legend that Stephen who has moved to the town of Spencer with his Father gets involves in when he befriends twins Devon and Cara and their friends.
The legend is to be rid of the bad times in the small town a human sacrifice is to be made to the Winged Ones, and the good times shall prevail, the residents of Spencer take this lore seriously, Stephen takes the stories with a grain of salt but the more he hears and the beliefs of his new friends gradually has him believing in the possibility of the Winged Ones.
With a burgeoning relationship with Cara and his new friendships, Stephen finally feels like he has a place in Spencer but things aren't want they seem, and when odd things begin to happen that point to Devon, Stephen must decide how involved he wants to become and whether he can overlook the disturbing events that seem to be occurring.
Full of suspense, mystery and a sense of eerieness this book will have you on the edge of your seat as we discover whether the Winged Ones are real or just a figment of the towns imagination.
I really enjoyed this story, this was the first book of Heather's that I've ever read and I hope to pick up some more books of hers at some point, a great and original standalone,
I give this 4/5 stars.
Heather Brewer grew up on a diet of Twilight Zone and books by Stephen King. She chased them down with every drop of horror she could find—in books, movie theaters, on television. The most delicious parts of her banquet, however, she found lurking in the shadowed corners of her dark imagination. When she's not writing books, she's skittering down your wall and lurking underneath your bed. Heather doesn't believe in happy endings . . . unless they involve blood. She lives in Missouri with her husband and two children.