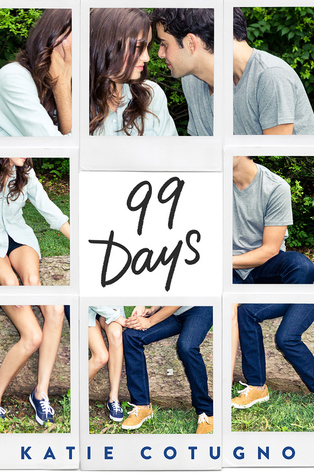 99 Days
Publication: 21st April 2015
Publisher: Balzer + Bray
Pages: 384
Genre: Contemporary Romance
Age Appropriate: Young Adult
Day 1: Julia Donnelly eggs my house my first night back in Star Lake, and that's how I know everyone still remembers everything—how I destroyed my relationship with Patrick the night everything happened with his brother, Gabe. How I wrecked their whole family. Now I'm serving out my summer like a jail sentence: Just ninety-nine days till I can leave for college, and be done.

Day 4: A nasty note on my windshield makes it clear Julia isn't finished. I'm expecting a fight when someone taps me on the shoulder, but it's just Gabe, home from college and actually happy to see me. "For what it's worth, Molly Barlow," he says, "I'm really glad you're back."

Day 12: Gabe got me to come to this party, and I'm actually having fun. I think he's about to kiss me—and that's when I see Patrick. My Patrick, who's supposed to be clear across the country. My Patrick, who's never going to forgive me.
My Thoughts.
I was a big fan of Katie's previous book How To Love, so when I received a copy of 99 days to review I was over the moon.
I was drawn to the plot of this book immediately, while I'm not a fan of books that feature cheating the idea that the main protagonist Molly cheated on her boyfriend Patrick with his older brother Gabe intrigued me enough to want to pick it up and give it a go.
The one thing I really disliked about the story was the slut shaming, it's like they forgot that it takes two to tango, the amount of harassment and name calling amongst other things was enough to have Molly up and leave for boarding school while Gabe seems to get off scot free, Molly was left to endure all of the lewd and cruel comments alone.
When Molly arrives home the summer before college she counts down the 99 days until she leaves, off to begin her college years, with the relationship with her Mother who is a famous author strained after she wrote a book about the whole Molly, Patrick and Gabe situation, and through an article written about the book everybody in town discovered the secret she and Gabe had hidden, the extremely awkward encounters with Patrick and the hateful attitude directed towards her from her former best-friend and Patrick's twin sister Julia, Molly is left alone, depressed and lonely so she shuts herself away in her room, that is until Gabe arrives home from college, they tentatively begin a romantic relationship and although she finds herself developing feelings for Gabe, she can't stop her thoughts drifting towards Patrick.
But will history repeat itself, will Molly make a serious mistake again and lose the trust of the people she's just started to get to trust her again, torn between two brothers this is one decision that Molly must make once and for all.
A very thought provoking story about the double standards women are still subjected to in society today, a very enjoyable story, I still love How To Love more but I await the next book Katie releases, I really like her writing style and story ideas.
I give this 4/5 stars.
Katie Cotugno went to Catholic school for thirteen years which makes her, as an adult, both extremely superstitious and prone to crushes on boys wearing blazers. She routinely finds herself talking about the romantic endeavors of characters on TV shows as if they actually exist in the world. Katie is a Pushcart Prize nominee whose work has appeared in The Broadkill Review, The Apalachee Review, and Argestes, as well as on Nerve.com. Her first novel, HOW TO LOVE, is due out from Balzer + Bray on October 1st, 2013. The great loves of Katie's life include child's pose, her little sister, and mozzarella and honey sandwiches. She lives in Boston (and in sin) with her boyfriend, Tom.