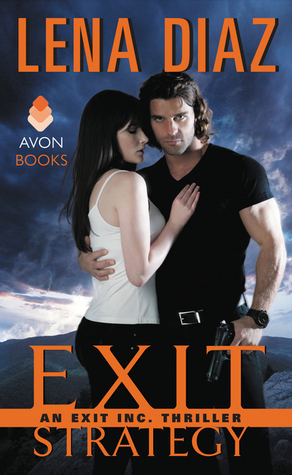 Publication: 30th June 2015
Publisher: Avon
Pages: 384
Genre: Romantic Suspense
Age Appropriate: Adult
Lena Diaz launches her thrilling new series featuring the undercover vigilantes of EXIT Inc. with a skilled operative putting his life—and his heart—on the line for a woman in trouble...
When Sabrina Hightower awakens to the sound of an intruder, she figures he's there to rob her, murder her— or worse. She doesn't expect to be carried off by a muscle-bound stud with male-model good looks... or that he came to rescue her.
Mason Hunt became an enforcer with EXIT Inc. to eliminate the bad guys—terrorists, militia groups, all those who would do America harm. But his latest target is innocent. If EXIT could lie about sultry, strong-willed Sabrina, what darker truths might they be concealing?
Going rogue in the rugged North Carolina mountains, Mason risks everything to keep Sabrina close, especially now that EXIT's lethal assassins are chasing them down. The heat is on... but it's nothing compared to the slow burn of seduction.
My Thoughts.
Exit Strategy is the first book in an all new series, filled with suspense from the get go, this story is full of pulse-pounding action sure to keep the adrenaline running as you make your way through this exciting and heart-racing book.
Sabrina is woken up one night to the sound of someone breaking in, she's kidnapped from her home by the extremely hot guy Mason who broke in, Mason works for EXIT Inc an extreme sports company which is a front for a government covert anti-terrorist organization, who sends out assassins to kill terrorists hopefully before they make their move, when an order is sent out to kill Sabrina for crimes she didn't commit, Mason and some rogue agents discover that not only was her contract faked but there have been a lot of innocent people killed who were given bogus orders to be assassinated, what they discover is that the death's of Sabrina's brother, parents and the disappearance of her Grandfather are all related, all linked back to EXIT Inc, all because of something she saw with her photographic memory that they don't want her to connect or link back too EXIT Inc.
And so begins the race to find evidence of EXIT Inc's wrong doings before the assassins sent out to terminate Mason and Sabrina find them first, with a bit of romance thrown in there is something here for everyone, I thoroughly enjoyed this book, Lena's writing is filled with tension, action, adventure and a great storyline making for a really great romantic suspense story, I look forward to the next book and the continuation of what appears to be a thrilling series.
I give this 4/5 stars.
About Lena Diaz
Originally from Kentucky, romantic suspense author Lena Diaz also lived in California and Louisiana before settling in Northeast Florida with her husband, two children, and a Shetland Sheepdog named Sparky. A Romance Writers of America Golden Heart® finalist, she's won the prestigious Daphne du Maurier Award for Excellence in Mystery/Suspense and has been a finalist for the National Excellence in Romance Fiction Award. She loves to watch action movies, garden, and hike in the beautiful Tennessee Smoky Mountains.