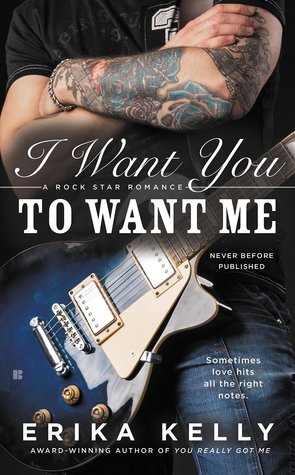 Publication:
7th July 2015
Publisher:
Berkley
Pages:
352
Genre:
Contemporary Romance
Age Appropriate:
Adult
Buy It: Amazon Barnes & Noble
From the award-winning author of You Really Got Me comes the next romance in her red-hot Rock Star Romance series, about a rocker who lives for his music—and loves with all his heart.
Derek Valencia finally has the success he's worked so hard for. His band is touring its debut album and great reviews are rolling in. But when pictures of him tossing naked groupies off a balcony go viral, it's damage-control time. He's assigned a "babysitter" whose sole job is to keep him out of trouble.
Violet Davis swore she'd never work in the music industry again, but being a minder for a rock star will earn her enough to pay off the mortgage on her wildflower farm. And for a girl brought up in the foster care system, owning her own home means more to her than anything.
Though at first the two bang heads, the rocker and the farm girl soon grow close and realize that they make sweet music together. But can a girl who craves the stability of life on a farm really make it work with a man whose life is spent on the road with his band?
My Thoughts.
I Want You To Want Me is the second book in the Rock Star Romance series, this is Blue Fire's bassist Derek's book, paired up with Violet who is brought in to be the band's 'minder/sober companion' while they're on tour to direct their energy after shows to other things besides drugs, booze and random hook-up's.
Violet is very professional in her job with the set of rules she follows, the top one being not getting physically or emotionally involved with her clients, growing up in foster care has always led Violet to believe that she has no emotions or feelings, that kids that have no physical contact like hugs for example like she did will grow up unable to be in a proper relationship and so has closed herself off to the idea of loving someone or in return being loved.
Derek on the other hand has grown up with two parents who left him feeling ignored and unloved, the only person he really trusts is his sister Emmie, with his famous musician Father making derogatory remarks about him to the press whenever he can, Derek is determined to succeed and prove to his Dad and everyone one how successful he and his band are actually becoming.
With the intense attraction between the two of them, can they finally give a relationship a go or will Violet's misgivings drive a wedge between any potential romance they may have now or in the future.
Erika's second installment has everything you want in a contemporary romance, love conflict, extremely likeable characters and a great plot, I look forward to book three and discovering which member of the band will find love next.
I give this 4/5 stars.
Award-winning author Erika Kelly has been spinning romantic tales all her life—she just didn't know it. Raised on the classics, she didn't discover romantic fiction until later in life. From that moment on, she's been devouring the genre and has found her true voice as an author. Over three decades she's written poems, screenplays, plays, short stories, and all kinds of women's fiction novels. Married to the love of her life and raising four children, she's lived in two countries and seven states, but give her pen and paper, a stack of good books, and a steaming mug of vanilla chai latte and she can make her home anywhere.