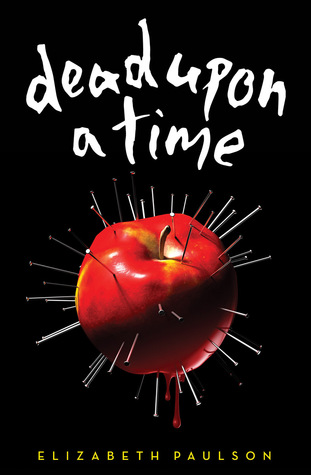 Dead Upon a Time
Publication: 25th August 2015
Publisher: Scholastic Press
Pages: 224
Genre: Fantasy/Fairy Tale Retellings
Age Appropriate: Young Adult
It's a fairy-tale nightmare . . .
One girl is kept in a room where every day the only food she's given is a poisoned apple. Another is kept in a room covered in needles -- and if she pricks her finger, she'll die. Then there are the brother and sister kept in a cell that keeps getting hotter and hotter. . .
A sinister kidnapper is on the loose in Kate's world. She's not involved until one day she heads to her grandmother's house in the woods -- and finds her grandmother has also been taken. Already an outcast, Kate can't get any help from the villagers who hate her. Only Jack, another outsider, will listen to what's happened.
Then a princess is taken, and suddenly the king is paying attention -- even though the girl's stepmother would rather he didn't. It's up to Kate and Jack to track down the victims before an ever after arrives that's far from happy.
My Thoughts.
I know I've said this quite a few times throughout my time writing book reviews but I love fairytale retellings, how the stories and characters can be changed and interpreted by different authors is what keeps me coming back to them, that and memories of reading the originals when I was younger, finding retellings that are unbelievably out of this world is always something I look forward to, unfortunately Dead Upon A Time fell a little short.
The concept of this book had me excited, fairytale characters held in prisons of their well known downfalls, Snow White and a basket of apples, with one apple being poisoned and so begins her endless task of figuring out which one not to eat, Hansel and Gretel stuck in a room where the temperature steadily increases every minute and so on, it falls to Kate of Little Red Riding Hood fame and Jack from Jack and the beanstalk to save them by the King's orders whose daughter Cinderella has also been kidnapped.
Unfortunately it didn't have the excitement that I was craving, there were a few unanswered questions such as Kate's parents and the reasons for their disappearance, I didn't think that it was explained fully, I found myself taking quite a while to finish this book and it's not very long at all, I just wasn't all that eager to want to pick it up again once I'd put it down and that was disappointing.
So while the idea of this book was intriguing, I just didn't enjoy it as much as I'd hoped to, but in saying that it wasn't terrible at all, in fact quite a few people seemed to enjoy it, I just couldn't seem to connect to the story, I will still pick up anything else Elizabeth writes though, just because this wasn't one of my favorite reads ever doesn't mean I won't fall in love with her next release.
I give this 3/5 stars.