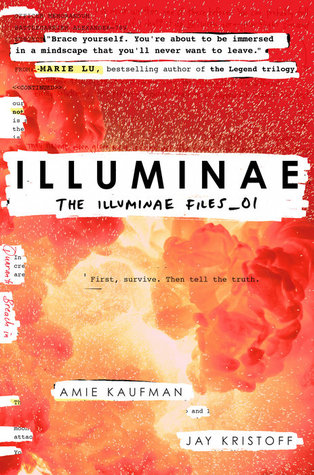 Publication: 20th October 2015
Publisher: Knopf Books For Young Readers
Pages: 600
Genre: Science Fiction
Age Appropriate: Young Adult
This morning, Kady thought breaking up with Ezra was the hardest thing she'd have to do.
This afternoon, her planet was invaded.
The year is 2575, and two rival megacorporations are at war over a planet that's little more than an ice-covered speck at the edge of the universe. Too bad nobody thought to warn the people living on it. With enemy fire raining down on them, Kady and Ezra—who are barely even talking to each other—are forced to fight their way onto an evacuating fleet, with an enemy warship in hot pursuit.
But their problems are just getting started. A deadly plague has broken out and is mutating, with terrifying results; the fleet's AI, which should be protecting them, may actually be their enemy; and nobody in charge will say what's really going on. As Kady hacks into a tangled web of data to find the truth, it's clear only one person can help her bring it all to light: the ex-boyfriend she
swore
she'd never speak to again.
Told through a fascinating dossier of hacked documents—including emails, schematics, military files, IMs, medical reports, interviews, and more—
Illuminae
is the first book in a heart-stopping, high-octane trilogy about lives interrupted, the price of truth, and the courage of everyday heroes.
My Thoughts.
I'm sure if you looked up the word EPIC in the dictionary you would find a picture of Illuminae, this book was amazingly brilliant and such a joy and pleasure to read.
The way the story is told through interviews, emails, documents, military files and IM messages provide such a unique and interesting sci-fi adventure, is made even better by the amazing characters that makes Illuminae a story you won't forget in a hurry.
In a way this book reminded me of the Terminator movies and the Skynet storyline, where the computers become aware (those who've read this book and seen the movies will understand what I'm talking about) and I loved that.
It's intimidating when you first see this book, at 600 pages it's a chunker of a novel, but I managed to read this in just over 12 hours, it's so hard to put down, from the very first page I was captivated and I knew I was in for something really special.
I'm really excited to see what the next book is going to give us, Amie and Jay are sure to give us another rip-roaring adventure sure to entertain and delight.
I can't put into words how amazing this book really is, whether you enjoy sci-fi or not give it a go, you may find yourself a new favourite.
I give this 5/5 stars.
Amie Kaufman is the New York Times bestselling co-author of the award-winning Starbound trilogy (These Broken Stars, This Shattered World) and The Illuminae Files trilogy (Illuminae). Her work has been published in fifteen countries, won the Aurealis Award for Best YA Novel, been named the Huffington Post's best YA novel of the year, shortlisted for the Gold Inky Award and is in development for TV.
Amie had the good fortune to be raised just one block from her local library, and took full advantage of that fact growing up. She and her sister spent their childhood summers re-creating their favourite books by camping in the back yard, mapping their neighbourhood, climbing trees, stepping through magical doors and sailing the local seas. Raised in Australia and Ireland, she has kissed the Blarney stone six times, thoroughly cementing her gift of the gab.
As she grew older (but not up), she continued her education, and graduated with honors degrees in history, literature and law, and a master's degree in conflict resolution. After working as a mediator for seven years, these days she's a full time writer, working from her home in Melbourne when she's not on the road in the US, Europe and Asia. A few of her top travel moments include camping in the Sahara overnight, climbing a mountain in Vietnam, standing on the Great Wall of China and cycling the Loire Valley, but she has a huge list left to cover.
Amie lives in Melbourne, Australia with her husband and their very quirky rescue dog, Jack. She's a huge fan of chocolate and naps, has an enormous music collection, and an entire room of her house is devoted to her library. She still sails, and though she climbs fewer trees, she remains partial to investigating the occasional magical door.
Jay Kristoff is a tragic nerd, but has spent the last ten years dumping expeez into his Intimidation stat, with the result that nobody is brave enough to say it to his face. He grew up in the second most isolated capital city on earth and fled at his earliest convenience, although he's been known to trek back for weddings of the particularly nice and funerals of the particularly wealthy. He spent most of his formative years locked in his bedroom with piles of books, or gathered around dimly-lit tables rolling polyhedral dice. Being the holder of an Arts degree, he has no education to speak of.
His first trilogy, THE LOTUS WAR, is set to be published in over a dozen countries. The first installment, STORMDANCER, was critically acclaimed in Kirkus and Publishers Weekly, shortlisted for the Aurealis Award, and nominated for the David Gemmell Morningstar and Legend awards. The Lotus War novella THE LAST STORMDANCER won the 2014 Aurealis Award for Best Fantasy Short Fiction. Jay's new series, the SciFi thriller ILLUMINAE, which he co-authored with Amie Kaufman, is due for publication by Random House in October 2015. A new fantasy series, THE NEVERNIGHT CHRONICLE, commences with book 1, NEVERNIGHT, from St Martins Press/Thomas Dunne Books in 2016. He is as surprised about all this as you are. He is represented byMatt Bialer and Lindsay Ribar at Sanford J Greenburger Associates.
Jay is 6'7 and has approximately 13380 days to live. He abides in Melbourne with his secret agent kung-fu assassin wife, and the world's laziest Jack Russell.
He does not believe in happy endings.