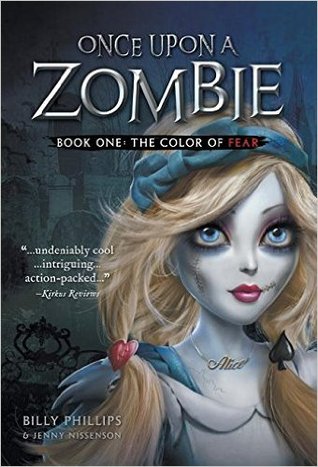 Publication: 1st October 2015
Publisher: The Toon Studio Press
Pages: 368
Genre: Fairytale Retellings, Paranormal
Age Appropriate: Young Adult
Unexplainablenews.com is reporting strange phenomena in cemeteries in Scotland, Germany, Italy, and America. Only one individual knows what's happening - and why! This person also knows the one girl who can prevent an unspeakable and imminent catastrophe from taking place. But will she? When Caitlin Fletcher's mom disappeared (or left?) four years ago, Caitlin began suffering from breathless bouts of anxiety. Her new move to London, with her Dad and her brainiac sister, threatens to lead to more situations that will trigger panic. Now, she's having anxiety over the possibility of having anxiety! Caitlin's life takes a turn for the bizarre when she's tricked into climbing down a "rabbit hole", landing in a wondrous fairy tale universe - except it's crawling with savage, starving blood-eyed zombies. But what's scarier - a blood thirsty zombie, a panic attack....or the painful truth?!
My Thoughts.
I know I've said this numerous times over the years while blogging and reviewing but I absolutely adore fairytale retellings, so when I discovered this book and realised that not only does it feature every fairytale character you can think of like Cinderella, Sleeping Beauty, Snow White, Rapunzel, The Little Mermaid, Belle from Beauty And The Beast and characters from Wizard Of Oz, Alice In Wonderland, Peter Pan, I could go on and on, but there's a big twist they're all Zombies, that's right that's the angle this story took on and boy did it turn out well.
The integration of these characters of popular culture has brought to life a world and story that's certainly unique and hard to tear yourself away from, I loved the imagery of the characters and the world that they're living in, the storyline is intriguing and so full of adventure that there's never a dull moment, the way that we as readers come to discover and meet these colorful characters was so unexpected but totally cool and creepy at the same time.
I don't want to give too much away because I believe the fun in reading this is discovering everything yourself, but the quick version is a curse bestowed upon the fairytale lands by The Queen Of Hearts which has turned everyone Zombie, and only one person can reverse this curse otherwise they'll be left as Zombies forever, and so it's up to a human girl Caitlin Fletcher to save the Kingdoms and it's folk, I like the way they've set up the series for the next book, I cannot wait, this book was so enjoyable I just want to get my hands on the next one.
I can't recommend this book enough, for those who like a twist on their favorite fairytales then this is the series for you!
Plus kudos for the fantastic cover.
I give this 5/5 stars.
About the Authors
Billy Phillips is a writer, creative director and producer. He has ghost-written thirteen best selling non-fiction books, some of which surpassed a million copies sold. This is his debut novel. He owns a large vintage collection of fairy tale books and art and lives in sunny and all-too-dry Southern California.
Jenny Nissenson is a writer, producer and entertainer. She has written for Nickelodeon and lives in Hollywood, California with 1009 puppets and her twenty-five year old pet tortoise.
http://www.onceuponazombie.com/