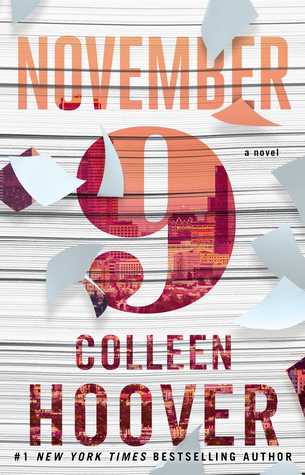 November 9
Publication: 10th November 2015
Publisher: Atria Books
Pages: 320
Genre: Contemporary Romance
Age Appropriate: New Adult
Beloved #1 New York Times bestselling author Colleen Hoover returns with an unforgettable love story between a writer and his unexpected muse.
Fallon meets Ben, an aspiring novelist, the day before her scheduled cross-country move. Their untimely attraction leads them to spend Fallon's last day in L.A. together, and her eventful life becomes the creative inspiration Ben has always sought for his novel. Over time and amidst the various relationships and tribulations of their own separate lives, they continue to meet on the same date every year. Until one day Fallon becomes unsure if Ben has been telling her the truth or fabricating a perfect reality for the sake of the ultimate plot twist.
My Thoughts.
I've read many of Colleen's books, I know enough by now to also believe that every book of hers should start with this disclaimer on the first page:
DANGER WARNING LABEL
READING THIS BOOK WILL RESULT IN HIGH CHANCES OF UGLY CRYING, YANKING OF THE HEART-STRINGS AND AN INABILITY TO FUNCTION PROPERLY AFTER HAVING YOUR HEART BROKEN (IN SOME INSTANCES NUMEROUS TIMES THROUGHOUT THE SAME BOOK), PROCEED WITH CAUTION AND A BOX OF TISSUES!
I think this is only fair, I try not to read Colleen's books in public for this very reason.
Like every story Coleen has ever written, November 9 has a twist, one that you'll never see coming, one that will shock you to realise that she's done it again, and you know that there will be more tears flowing, if the FOURTH NOVEMBER 9 section wasn't bad enough and hadn't already broken my heart, she had to cause even more grief, I have been an absolute mess reading this book, thanks Colleen!
I don't want to give anything away, the beauty of this book besides the relationship between Fallon and Ben is the incredible story and exceptional writing skills that keep me coming back time and time again to her books, they're like crack, addictive and will leave you wanting more!
November 9 would have to be up there with my favorite Colleen Hoover books, and it is for sure one of the best books of 2015, highly recommended, just be prepared for a bit of heartbreak and you should be fine!
I give this 5/5/ stars.
Colleen Hoover is the #1 New York Times bestselling author of seven novels and one novella. Hoover's novels fall into the New Adult and Young Adult categories. Hoover published her first novel, Slammed, in January 2012.
Wikipedia