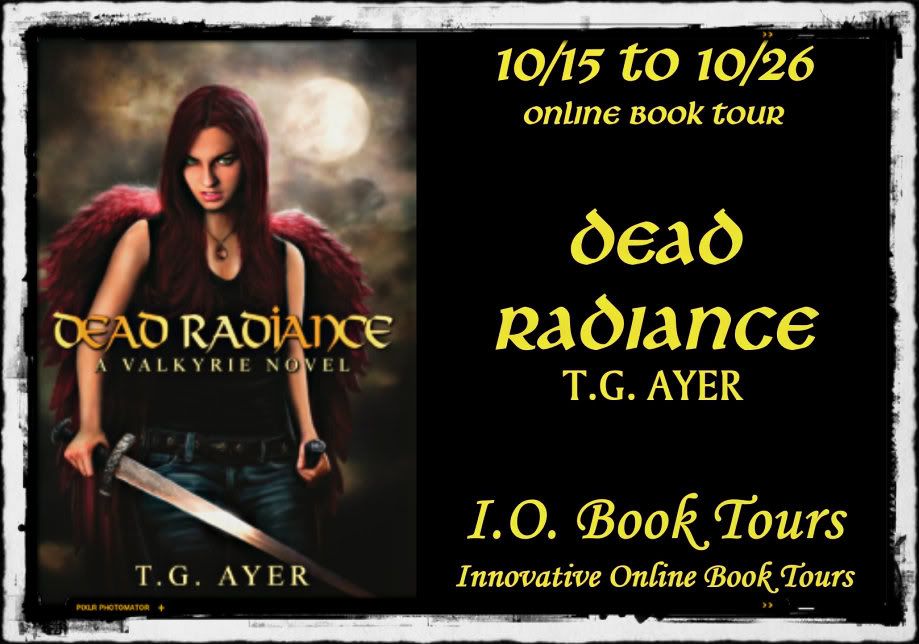 Publication: 25th February 2012
Publisher: Evolved Publishing
Pages: 354
Genre: Paranormal/Fantasy
Age Appropriate: Young Adult
That day I knew for sure. I'd lost control of my tears then. They fell in huge, mocking drops. I stared at Joshua through those bitter tears, my heart missing beats as I tried to remember to breathe.

I finally knew what the glow meant.

I was a freak and Joshua was going to die.
Bryn Halbrook had always seen the glow. But it is only when her best friend dies that she discovers the meaning of those beautiful golden auras — Death. Alone, lost in the foster system, she struggles to understand who she is and why she was cursed with the ability to see the soon-to-be-dead.
The new foster kid, Aidan, isn't helping any. Mr. Perfect seems to fit in no matter what, making her feel even more pathetic. But when his affections turn to her, Bryn finds him hard to resist. Impossible actually. A mystery himself, Aidan disappears, leaving behind a broken heart and a mysterious book that suggests Bryn might not be entirely human.
Bryn stands at the threshold of a journey of discovery. Will destiny help her find herself, find her purpose and her place in a world in which she'd never belonged?
My Thoughts...
Being a huge fan of the paranormal genre, I always love it when I come across something different that's not your typical, everyday written about paranormal beings and I definitely found it in this book about Valkyries.
I had seen this book around on Goodreads and had added it to my wishlist, so when I saw there was a blog tour coming up I was extremely happy, and so here we are and I'm glad to say that I absolutely loved it.
Adding to that the Norse mythology which I wasn't all that familiar with and you end up with a fantastic story and extremely likable characters.
Bryn was an extremely likable heroine, who after the death of her father is shipped around to different foster homes until she ends up with a permanent home, and it's there that a new foster kid Aidan arrives, but Bryn isn't exactly a fan at first, they definitely have a love/hate relationship, which blossoms into something more before he disappears, but not before letting him in on her secret, you see Bryn knows when someone is going to die, she see's a golden aura around a person, which is a sign of that person's eminent death.
But when she finds a book that Aidan has left behind, she discovers that she might not be quite human, and this is when the story really starts to pick up and the Norse mythology starts to come into play.
I loved reading all about the Valkyries and how they are tied into Norse mythology, it was so interesting and I'll definitely be looking out for books with that factor in for sure.
This had a fantastic plot, it was never boring and the writing flowed so well, I definitely cannot wait to start on the next book, especially after the ending we were left with.
I highly recommend this book, for anyone who loves the paranormal genre or if you're looking for something original in the paranormal world then pick this book up!
I give this 4/5.
Giveaway:
1 Signed Print book per tour, and 4 E-Books per tour, signed swag. plus a necklace INTERNATIONALa Rafflecopter giveaway
BUY NOW LINK: Amazon Paperback Copy
Amazon Kindle copy
BIO:
I have been a writer from the time I was old enough to recognize that reading was a doorway into my imagination. Poetry was my first foray into the art of the written word. Books were my best friends, my escape, my haven. I am essentially a recluse but this part of my personality is impossible to practice given I have two teenage daughters, who are actually my friends, my tea-makers, my confidantes… I am blessed with a husband who has left me for golf. It's a fair trade as I have left him for writing. We are both passionate supporters of each other's loves – it works wonderfully…
My heart is currently broken in two. One half resides in South Africa where my old roots still remain, and my heart still longs for the endless beaches and the smell of moist soil after a summer downpour. My love for Ma Afrika will never fade. The other half of me has been transplanted to the Land of the Long White Cloud. The land of the Taniwha, beautiful Maraes, and volcanoes. The land of green, pure beauty that truly inspires. And because I am so torn between these two lands – I shall forever remain cross-eyed.
ONLINE LINKS:
www.facebook.com/TGAyerAuthor
twitter.com/#!/TGAyerAuthor
tgayer.wordpress.com
www.goodreads.com/author/show/5726831.T_G_Ayer
www.shelfari.com/tgayerauthor
amzn.to/QECLcY