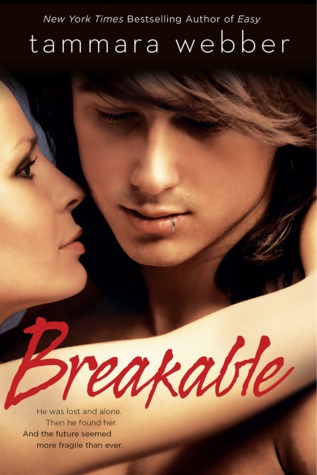 Publication: 6th May 2014
Publisher: Penguin Berkley
Pages: 368
Genre: Contemporary Romance
Age Appropriate: New Adult
He was lost and alone. Then he found her.
And the future seemed more fragile than ever.
As a child,
Landon Lucas Maxfield
believed his life was perfect and looked forward to a future filled with promise — until tragedy tore his family apart and made him doubt everything he ever believed.
All he wanted was to leave the past behind. When he met
Jacqueline Wallace
, his desire to be everything she needed came so easy…
As easy as it could be for a man who learned that the soul is breakable and that everything you hoped for could be ripped away in a heartbeat.
My Thoughts.
Breakable is the retelling of Tammara Webber's fantastic book Easy, but this time we get Lucas/Landon's side of the story.
Being a huge fan of Easy, to say that I was beyond excited when I discovered that this book was being written is not a lie (a happy dance may have been involved).
And I have to say that I adored Breakable probably more so than Easy, and that's because of Lucas, his story was always so much more intriguing to me than Jacqueline's was, so to open the book and not only find that we get Easy from his point of view but we also get at the start of every chapter his past, after the heartbreaking events that took his Mom away from him and in a sense his childhood innocence which also left him with a world of guilt, we get a look into his life after the event that changed his and his Dad's lives forever and up to where we first meet him in Easy.
Punishing himself with alcohol and drugs, we see Lucas lose his sense of self, failing at school he just doesn't care, it doesn't help that after his Mom's death that his Dad closed himself off, and barely speaks to him, which makes Lucas believe even more that his Dad blames him for what happened to his Mom when he was thirteen.
After a downward spiral that lands him in jail, Charles a friend of his parents helps him to get back on his feet and to make something of himself, and it's through hard work and perseverance that he accomplishes just that, which ultimately brings him to the class where he notices Jacqueline for the first time, while she remains ignorant of his existence until the night she is almost raped, saved by Lucas she tentatively starts to let Lucas in, but will his past hold him back from moving forward with his life and find happiness with the first and only girl he's ever loved?
I love this trend that seems to be happening with the New Adult genre with the books being rewritten in the males point of view, I also seem to find them more enjoyable than the original story, one nitpicky thing I just wish that the epilogue was set much farther in the future than just six months, I wanted to know where Lucas and Jacqueline were in say ten years time and what they were up to, but that's just one little thing that doesn't affect the story in any way.
For those of you who were big fans of the first book, you definitely need to pick this book up, Tammara has written a story that far surpasses the first and will leave you clamoring for her next release.
Highly recommended.
I give this 5/5 stars.
I'm a hopeful romantic who adores novels with happy endings, because there are enough sad endings in real life. Before writing full-time, I was an undergraduate academic advisor, economics tutor, planetarium office manager, radiology call center rep, and the palest person to ever work at a tanning salon. I married my high school sweetheart, and I'm Mom to three adult kids and four very immature cats.