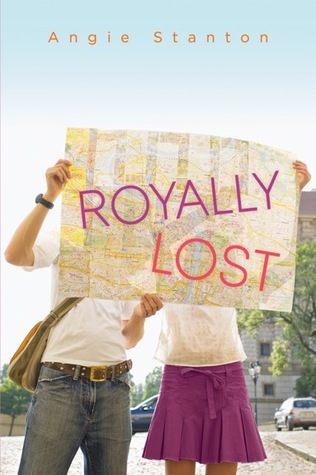 Royally Lost
Dragged on a family trip to Europe's ancient cities, Becca wants nothing more than to go home. Trapped with her emotionally distant father, over-eager stepmother, and a brother who only wants to hook up with European hotties, Becca is miserable. That is until she meets Nikolai, a guy as mysterious as he is handsome. And she unknowingly finds herself with a runaway prince.
Nikolai has everything a guy could ask for-he's crown prince, heir to the throne, and girls adore him. But the one thing he doesn't have...is freedom. Staging a coup, he flees his kingdom and goes undercover on his own European tour.
When Nikolai and Becca meet, it's their differences that draw them together. Sparks fly as they share a whirlwind of adventures, all the while dodging his royal guard. But Becca's family vacation ends in a matter of days. Will Nikolai and Becca be forced to say goodbye forever, will his destiny catch up to him, or will they change history forever?
My Thoughts.
Royally Lost is a delightfully fun, lighthearted, and quick contemporary romance read that will keep you entertained the whole way through.
Following both Becca who is vacationing in Europe with her family and Prince Nikolai of Mondovia (a fictional European country) who both want to escape their families and their parents expectations, fate seems to keep bringing these two together, and so they take the hint and start to meet up everyday and they soon start falling for each other.
Nikolai is not happy with where his life is going, with numerous dinners and events to attend he just wants to do his own thing, to not have his every decision made for him, the last straw comes when his parents inform him that he will be attending military school against his wishes,so he does what any other teenager does when their parents won't listen, he runs away, and it's while on his adventure that he meets Becca.
Becca has a similar problem, after her Mothers death her Dad seems to stop paying attention to her and her brother Dylan, so when he remarries she and Dylan don't take to kindly to their new Stepmother Vicky, so when Vicky arranges this trip for some family time, they're not entirely on board with the idea, adding to Becca's unhappiness is the fact that her Dad won't let her go to the college that she wants, the one her Mom went to, instead ends up being enrolled in a college of her Dad's choosing.
So when these two meet the sparks fly, and they are able to be each other's distraction for a while although Nikolai has not told Becca who he is, and so they act like any other normal couple, taking in the sites and making the most of their short time together with the help of Dylan, but when Becca does find out that he's a Prince she realises that their time will soon be over, he has duties befitting a Prince which doesn't include a relationship with some American girl especially when he has girls all over him and can be with whomever he wants, all the while evading the ever annoying paparazzi and his Fathers security who are out looking for him.
What are they to do when they realise they mean more to each other than a holiday romance, when they have to part ways and say goodbye for good, knowing that they being on account of who Nikolai is, by all rights should never see each other again, especially living on opposite sides of the world.
This was such a fantastic contemporary, I've never read anything else by Angie before, but I hope to remedy that sooner rather than later, her characters are extremely likeable and her world building and storytelling top notch.
Highly recommended for all contemporary romance fans out there.
I give this 4/5 stars.
Angie Stanton never planned on writing books—she wanted to be a Rockette. However, growing up in rural America with her brothers' 4-H pigs as pets, she found that dance didn't quite work out. Instead, she became an avid daydreamer. After years of perfecting stories in her head, she began to write them down, and the rest is history. When not writing, she loves watching natural disaster movies, going to Broadway musicals, and dipping French fries in chocolate shakes.
Best selling books by Angie include Rock and a Hard Place, Snapshot, Dream Chaser,Snowed Over and Love 'em or Leave 'em. All are contemporary romances.
Angie's next release is titled Royally Lost and releases on May 6, 2014. Stay tuned for more info.
Agency Representation: Jane Dystel of Dystel and Goderich Literary Management, New York.
For regular updates and some silly nonsense, please like Angie on Facebook:
Twitter: Angie_Stanton