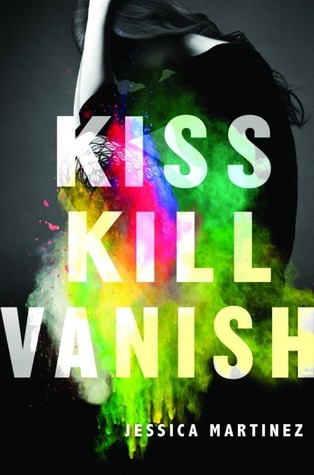 Kiss Kill Vanish
Publication: 7th October 2014
Publisher: Katherine Tegen Books
Pages: 432
Genre: Contemporary
Age Appropriate: Young Adult
Valentina Cruz no longer exists.
One moment, she was wrapped in Emilio's arms, melting into his kiss. The next, she was witnessing the unthinkable: a murder in cold blood, ordered by her father and carried out by her boyfriend. When Emilio pulled the trigger, Valentina disappeared. She made a split-second decision to shed her identity and flee her life of privilege, leaving the glittering parties and sultry nightlife of Miami far behind.
She doesn't know how to explain to herself what she saw. All she knows now is that nothing she believed about her family, her heart, or Emilio's love, was real.
She can change her name and deny her past, but Valentina can't run from the truth. The lines between right and wrong, and trust and betrayal, will be blurred beyond recognition as she untangles the deceptions of the two men she once loved and races to find her own truth.
My Thoughts.
Kiss Kill Vanish was one of my most anticipated books of the year, a standalone contemporary about a seventeen year old girl Valentina who witnesses her boyfriend Emilio murdering a man on the orders of her Father.
Running away and changing her name, she escapes to Montreal where she makes the acquaintance of Lucien and his brother Marcel, I really enjoyed the banter between Valentina and Marcel, I found myself laughing out loud quite a lot.
I can't write too much about the plot, you need to experience the surprises and twists that you don't see coming yourself, whilst I did find that the beginning of the book dragged a bit, that didn't take away how much I loved this book, the concept is what initially drew me in and while I don't read a whole lot of mystery books I thoroughly enjoyed this one, with a fresh take on your average murder mystery concept, this story is one of my favorites of the genre.
Jessica has written an edge of your seat mystery, that will have you dying to know what the outcome will be and leave you in suspense the whole way through.
This is the first book that I've ever read of Jessica's and it definitely won't be the last.
Highly enjoyable.
I give this 4/5 stars.
Biography
Briefly:
I was born and raised in Calgary, Canada. As a child I played the violin, read books, and climbed trees incessantly. I went on to study English and music at Brigham Young University, and since then I've been an English teacher, a symphony violinist, and a mother. I currently live in Orlando, Florida with my husband and three children.
My young adult novels are Virtuosity, The Space Between Us, The Vow, and Kiss Kill Vanish. I'm represented by Mandy Hubbard of D4EO Literary Agency.