The Duke's Disaster
Publication: 7th April 2015
Publisher: Sourcebooks Casablanca
Pages: 384
Genre: Historical Romance
Age Appropriate: Adult
Noah Winters, Earl of Anselm, spent months sorting and courting the year's crop of debutantes in search of an ideal bride. When the sweet, biddable young thing he selected accepts another's proposal, Noah decides to court her companion instead.
Thea Collins, though, is anything but biddable. She has learned the hard way that men are not to be trusted, especially the handsome ones. When she reluctantly accepts, Noah rushes Thea to the altar before she can reveal her deepest secret. Can she finally move on from her past, or will it come back to haunt her?
My Thoughts.
Grace Burrowes has released another page turner, there is nothing she writes that I don't love, from contemporary to historical romances she's a master of both, I always know that picking up a book of hers will transport me to whenever, wherever the story is set and have me absorbed in no time at all.
Lady Thea, the daughter of an Earl has spent her last few years as a ladies companion, a lowly job of someone of her station, but after the death of her Father and Mother she had her younger brother and sister to raise, when her charge Lady Marliss who was to be betrothed to Noah the Duke of Anselm instead becomes engaged to another no one is more shocked than Thea when Noah then proposes marriage to her, knowing that her brother is doing a poor job of taking on his new title and neglecting their younger sister she accepts with the idea that her sister will come to live with her and Noah.
But starting from their wedding night things don't go so well, a tragic secret that Thea has hidden makes itself known and Noah is none too pleased with the deceit he believes he was tricked into by Thea not disclosing information which she had actually tried to inform him of, when Thea on her walk to familiarise herself with her new home discovers two secrets Noah had kept hidden away she begins to feel the way that Noah is feeling towards her, with both secrets each other are hiding nothing more than misunderstandings which they'd realise if they'd only sit down and discuss it and tell the truth, it may be a while before they fully trust one another, when they both start to develop feelings for one another the truth will eventually need to come out, especially when the secret from Thea's past comes a knocking in the form of rumors that will destroy her reputation.
I loved the storyline in this book, the cast of characters are well written and enjoyably entertaining, a quick read you won't want to put down until you get to the very end.
I give this 4/5 stars.
***About Grace Burrowes***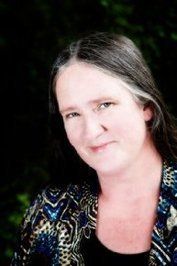 New York Times
and
USA Today
bestselling author Grace Burrowes' bestsellers include
The Heir
,
The Soldier
,
Lady Maggie's Secret Scandal
,
Lady Sophie's Christmas Wish
, and
Lady Eve's Indiscretion
.
The Heir
was a
Publishers Weekly
Best Book of 2010,
The Soldier
was a
PW
Best Spring Romance of 2011,
Lady Sophie's Christmas Wish
won Best Historical Romance of the Year in 2011 from RT Reviewers' Choice Awards,
Lady Louisa's Christmas Knight
was a
Library Journal
Best Book of 2012, and
The Bridegroom Wore Plaid
was a
PW
Best Book of 2012. Her Regency romances have received extensive praise, including starred reviews from
Publishers Weekly
and
Booklist
. Grace is branching out into short stories and Scotland-set Victorian romance with Sourcebooks. She is a practicing family law attorney and lives in rural Maryland.
Find Grace Here: Website | Facebook | Twitter | Goodreads