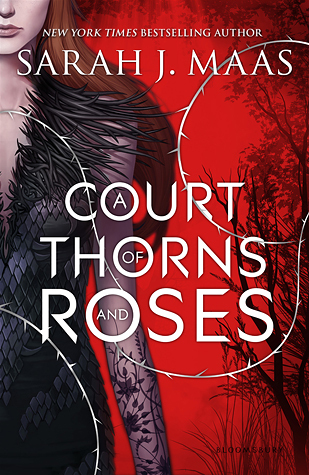 Publication: 7th May 2015
Publisher: Bloomsbury
Pages: 416
Genre: Fantasy
Age Appropriate: Young Adult
Amazon • Book Depository
•
A thrilling, seductive new series from New York Timesbestselling author Sarah J. Maas, blending Beauty and the Beast with faerie lore.

When nineteen-year-old huntress Feyre kills a wolf in the woods, a beast-like creature arrives to demand retribution for it. Dragged to a treacherous magical land she only knows about from legends, Feyre discovers that her captor is not an animal, but Tamlin—one of the lethal, immortal faeries who once ruled their world.

As she dwells on his estate, her feelings for Tamlin transform from icy hostility into a fiery passion that burns through every lie and warning she's been told about the beautiful, dangerous world of the Fae. But an ancient, wicked shadow grows over the faerie lands, and Feyre must find a way to stop it . . . or doom Tamlin—and his world—forever.
Perfect for fans of Kristin Cashore and George R. R. Martin, this first book in a sexy and action-packed new series is impossible to put down!
My Thoughts.
Sarah has a gift for creating kick-ass heroines from Caelena of the Throne Of Glass series to her newest creation Feyre of the all new A Court Of Thorns And Roses series.
Based on my favorite fairytale Beauty And the Beast, the tale has been twisted so that Feyre our human heroine is sent to live in Prythian a land inhabited with fairies, and that is just what our Beast is, a fairy who can change from a Beast into a man.
While out hunting for food for her family and herself, Feyre kills a fairy in disguise as a wolf, a Beast comes knocking on her door and demands as payment that she is to spend the rest of her life living in his house with him, while at first she lets her hatred of fairies be known it's not long before she realises most of them aren't as bad as she was led to believe, and it's not too long before Feyre finds herself developing feelings for Tamlin her captor who once transformed from the Beast is extremely attractive, except for the mask that covers his upper face from a curse that has left him and everybody that belongs to his Spring Court unable to ever remove it.
Feyre will find herself caught up in the curse which will affect her more than she realises.
Filled with all the magic and excitement that Sarah brings to her writing, there is never a dull moment, with a cast of characters that are sure to entertain and amuse, Tamlin, Feyre and Lucian are sure to be revered up there with Sarah's most famous protagonist Caelena Sardothien, I'm anxiously awaiting the next book, I've found another new favorite series that I've fallen in love with.
This also happens to be one of the best Beauty And The Beast interpretations that I've ever read, and I've read quite a few.
Sarah J. Maas would have to be one of the best YA fantasy authors around today, it seems there's nothing that she writes that I don't fall in love with.
Everybody needs to pick this one up, it's nothing short of amazing.
I give this 5/5 stars.
Sarah J. Maas is the New York Times and USA Today bestselling author of the Throne of Glass series (Heir of Fire, Book 3, will be out in September 2014). Starting in Spring 2015, her New Adult Fantasy series, A Court of Thorns and Roses, will be published by Bloomsbury as well.
Sarah lives in Southern California, and over the years, she has developed an unhealthy appreciation for Disney movies and bad pop music. She adores fairy tales and ballet, drinks too much coffee, and watches absolutely rubbish TV shows. When she's not busy writing, she can be found exploring the California coastline with her husband.