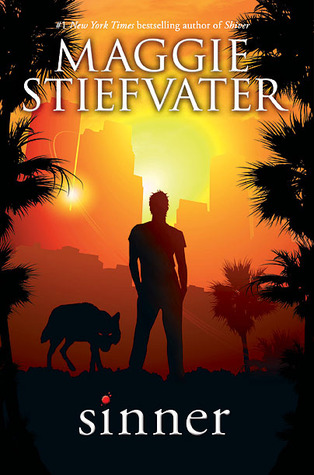 A standalone companion book to the internationally bestselling Shiver Trilogy.
Sinner follows Cole St. Clair, a pivotal character from the #1 New York Times bestselling Shiver Trilogy. Everybody thinks they know Cole's story. Stardom. Addiction. Downfall. Disappearance. But only a few people know Cole's darkest secret -- his ability to shift into a wolf. One of these people is Isabel. At one point, they may have even loved each other. But that feels like a lifetime ago. Now Cole is back. Back in the spotlight. Back in the danger zone. Back in Isabel's life. Can this sinner be saved?
My Thoughts.
Sinner is a companion novel to The Wolves Of Mercy Falls series, continuing on and finishing up Cole St Clair and Isabel Culpeper's story arc's, this is the book that fans of this series have been waiting for.
This was definitely one of my most anticipated books of the year for me, I loved Cole's character and I was eager to jump in and discover whether Cole and Isabel would finally put themselves and us readers out of our misery and get together.
Unfortunately while I did find this book enjoyable in parts, I also found it to be quite dull and there wasn't enough of a storyline to keep me wanting to continuously pick this book up, I loved Cole's witty repartee but there was what seemed to be a monotonous storyline which consisted of: Cole and Isabel meeting up, having a fight, one or the other storming off, record a song, do something for the reality show that Cole is appearing on, change into a wolf and repeat over and over.
Maybe my expectations were set too high, I really don't know, but I was left disappointed regardless, I'm a huge fan of Maggie's but this book didn't have the spark that the original series had.
I do suggest that fans of this series read Sinner though, to finish of this series and get some closure for these two characters who are fan favorites.
I give this 3/5 stars
I am Maggie Stiefvater. I write books. Some are about dead Welsh kings. Some are about werewolf nookie. Some are about neither.
I have been a wedding musician, a technical editor, a
portrait artist
, and, for several fraught weeks, a waitress. I play several
musical instruments
(most infamously, the bagpipes), I still
make art
, and I recently acquired and unacquired a race car.
I live in the Shenandoah Valley in Virginia with my husband, my two children, some cows, three dogs who fart recreationally, a criminally insane cat, an interminable number of miniature silky fainting goats, and one 1973 Camaro named Loki.
I like things that go.
Amazon