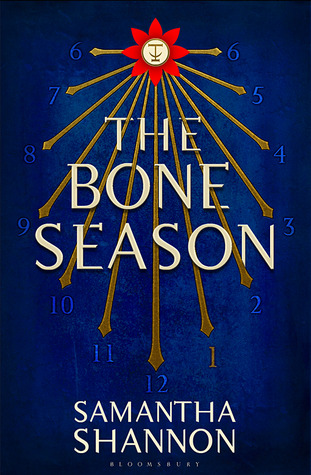 Publication: 20th August 2013
Publisher: Bloomsbury USA
Pages: 466
Genre: Fantasy/Dystopian
Age Appropriate: Young Adult
It is the year 2059. Several major world cities are under the control of a security force called Scion. Paige Mahoney works in the criminal underworld of Scion London, part of a secret cell known as the Seven Seals. The work she does is unusual: scouting for information by breaking into others' minds. Paige is a dreamwalker, a rare kind of clairvoyant, and in this world, the voyants commit treason simply by breathing.
But when Paige is captured and arrested, she encounters a power more sinister even than Scion. The voyant prison is a separate city—Oxford, erased from the map two centuries ago and now controlled by a powerful, otherworldly race. These creatures, the Rephaim, value the voyants highly—as soldiers in their army.
Paige is assigned to a Rephaite keeper, Warden, who will be in charge of her care and training. He is her master. Her natural enemy. But if she wants to regain her freedom, Paige will have to learn something of his mind and his own mysterious motives.
The Bone Season introduces a compelling heroine—a young woman learning to harness her powers in a world where everything has been taken from her. It also introduces an extraordinary young writer, with huge ambition and a teeming imagination. Samantha Shannon has created a bold new reality in this riveting debut.
My Thoughts.
The Bone Season is the first book in a new epic series, a mix of dystopian and fantasy, this is a thrilling, heart-pounding and nail-biting story that will leave you breathless and extremely desperate to get your hands on a copy of the next book The Mime Order.
Set in the year 2059, the world is now ruled by Scion, people like Paige who have some kind of psychic ability are deemed "unnaturals" and are hunted down and/or tortured and killed.
Paige belongs to one of the groups that are part of the Seven Seals the criminal underworld consisting of unnaturals/voyants with varied abilities that search out information by using their skills.
Paige has a very rare power, she is able to break in to people's minds through their dreamscapes, her ability makes her a dreamwalker a very rare clairovoyant that accidentally has her killing two guards, she is subsequently caught and sent to the long ago abandoned city of Oxford, run by the Rephaim whom are otherworldly creatures, each voyant is picked by a keeper to serve as their slaves, when Paige is chosen by Warden to be his slave and he her Master everyone is shocked as he has never had a human slave before, but his plans are to train her and help her to develop her ability, but she soon discovers that Warden is nothing like any of the other Masters, and if she has any hope of escaping she needs to learn to trust him, he may just be her best bet in achieving that.
The small bit of romance shared between these two at the end of the book has me anxiously awaiting what can only be one of my most anticipated books for the rest of this year, the world, imagery and characters combine to make this an extremely unforgettable novel.
I'm eager to see where the rest of this series goes, at the planned length of seven books there is sure to hopefully be some more Warden appearances, and even perhaps some more romance, and of course let's not forget Samantha's amazing storytelling.
Highly recommended.
I give this 5/5 stars.
I'm Samantha Shannon: dreamer, migraineur and author o
f
The Bone Season
, the first in a projected series of seven fantasy novels. I was born in Hammersmith, London in 1991. From 2010 – 2013 I studied English Language and Literature at St Anne's College, Oxford, specialising in Principles of Film Criticism and Emily Dickinson.
I'm now working on the second book in the Bone Season series,The Mime Order (out 21 October 2014).
I'm a fan of old music, gramophones, silent film, good coffee, and real books. I have four siblings, four parents, and a male tortoise named Lily-Beth, some of whom live with me in west London. The Bone Season is my first published novel.
My blog, A Book from the Beginning, tracks my journey to publication and my experiences as a debut novelist. Comments and discussion are always welcome.